If you are looking for an efficient way of running your business, you must consider looking into the ERP (Enterprise Resource Planning) systems. It can help you to keep your overhead costs to a minimum while maximizing your business's efficiency. The goal of every business owner is to run their business efficiently, with maximum profits. The Microsoft Dynamics, partnered with Folio3, is a viable option for all your business solutions. You can seamlessly connect your applications with Microsoft Dynamics to help increase productivity. This brings us to the main question- what is ERP and how does it work?  

What is the Definition of ERP and What does it stand for?
ERP stands for Enterprise Resource Planning. It is a great management software that can help you to run your business efficiently, by automating all your routine tasks. All your business tasks related to sales, human resources, inventory, finances, etc. are all available in one place. This provides you with a bigger and better picture, with real-time updates, for easy monitoring of the growth of your business. This is an easy way of rectifying any mistakes or switching to better business strategies, if need be, for improving your business's progress.


What is an ERP and how does it work?
By now, you must be inquisitive to know, what is an ERP and how does it work? The ERP system works in a way to help you to increase your business's efficiency, which in turn, improves your profitability. The ERP system is a business procedure managing software that allows you to collect and organize data through an ERP system software. This improves your company's operations in every department, by providing you full control of your business's resources. Instead of going back and forth from one app to the other for different departments, you can get everything integrated in one place through an ERP system software. However, to achieve this level of efficiency for your company, you need to invest in a good, well-reputed ERP system. This investment would help you to get automated visibility and clearer insights into your business operations. ERP software has several tools that can offer different reports and metrics to the various departments of your company. Your business's efficiency is improved by reducing the resources being used, without any sacrifice made on your company's quality and performance. These resources can be time, money, staff, raw materials, etc. With the reports and metrics provided by the ERP system software, you get a complete picture of how your resources are being utilized. This data can be used to improve the way resources or procedures are being carried out, which eventually helps in maximizing the growth of your business. You can easily pinpoint areas or procedures which may be underperforming and may require some special attention and help to bring them up to the mark. With all data in one place, you save up on a lot of precious time, which you can utilize in making changes to your business strategies.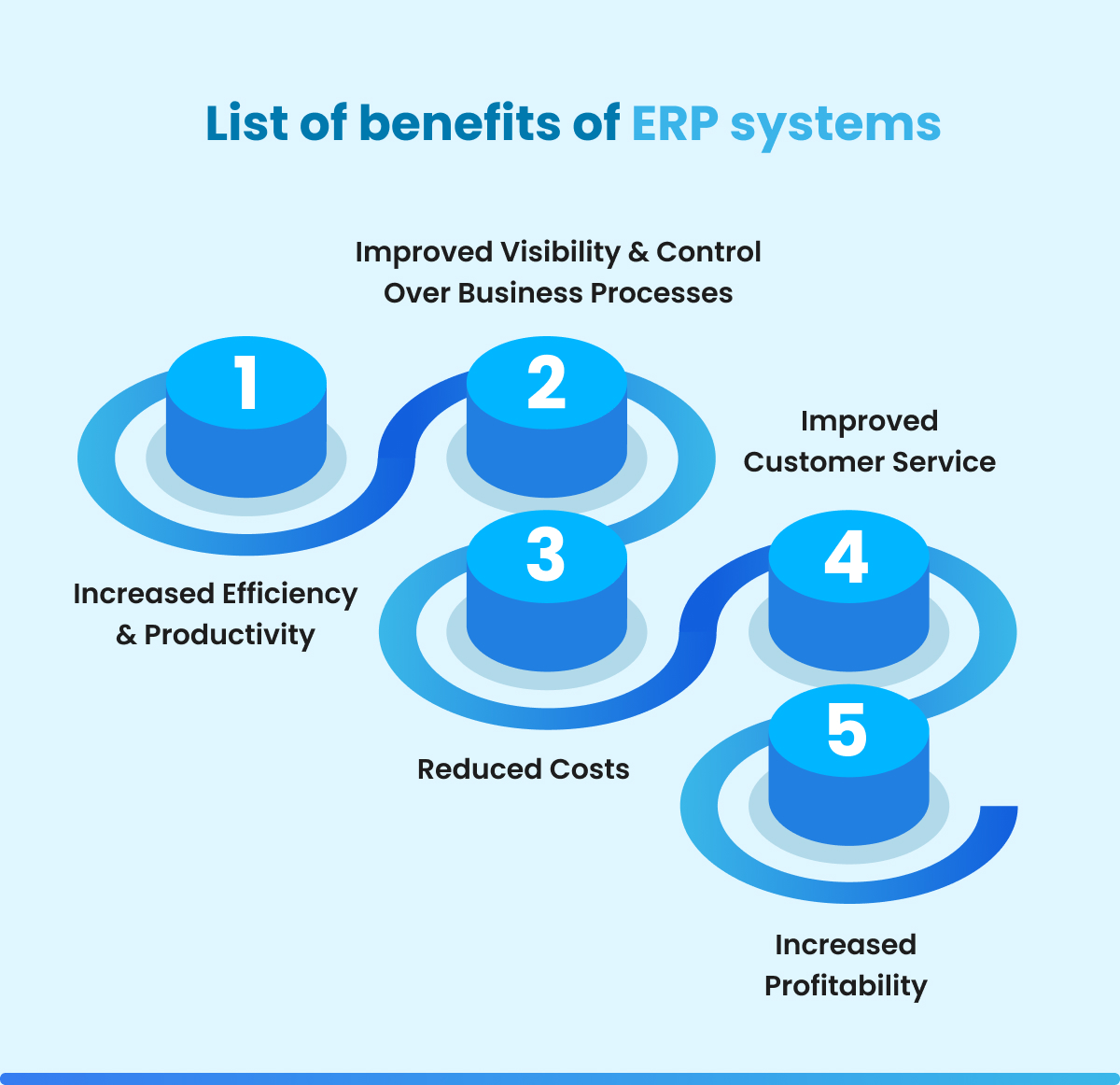 Read why Microsoft Dynamics is Better Than SAP? 
How does an ERP work for startups, SMEs, and Enterprises?
ERP works for your business by improving its efficiency by reducing the costs for your resources, without any compromise on the quality of your products and services. There are many ERP system software available, but you need to choose the one which is made for your industry type. For example, the ERP system software required for running a school would be different from the ERP system required in an apparel industry. ERP software can be downloaded on any computer, tablet, or mobile phone. Although different ERP software are required for different industries, they all, more or less, provide their users with the same benefits and goals. The benefits provided by the ERP system software for startups, small and medium-sized enterprises, and large enterprises are mentioned below:

Easy interface with everything in one place
Whether you have a small business set-up or a multinational set-up, by using the ERP software, you get easy access to all your company's operations in one place. You can use the ERP software from your company's headquarters and open a common ERP suite to get real-time information regarding your manufacturing plants abroad. You do not need to outsource labor abroad to get information about your manufacturing plants. You can get better and more accurate insights into your business, comfortably in one place.     
Better data analytics
How does an ERP work? The ERP works by using the Business Intelligence (BI) tools, that provide data collection, analytics, and various reporting methods to keep you abreast of your company's progress. With these accurate tools, you can get real-time insight into your company's performance and see which processes or departments are lacking in service. Once you have identified the shortcomings of your company, you can invest more time, effort, and resources to make them perform better. If this is not enough, you can even get customized reports for your company, that can come handy when you have to show your progress to your future business partners, shareholders, and also your employees, to keep them informed. Instead of wasting your time by flipping through numerous documents and spreadsheets, you get to monitor your company's progress in one place. Furthermore, since the ERP system can be installed on any device, you can even monitor your company's progress, in the comfort of your home, on your mobile phone.
Better communication between the departments
By using the ERP software, you get everything in one place, which means that you do not have to juggle between various apps for each department- Accounts, HR, and manufacturing all under one roof! The chances of any miscommunication and human errors are almost none. The ERP system software provides its users with communication tools that can help provide better communication channels internally, as well as externally, with your raw material supplier and distribution centers.
Fool-proof data security
With a bloom in the digital era, it is extremely important for companies, whether large scale or small scale, to improve and invest in their security systems to prevent any theft or fraud from happening. Since all your data would be in one place, it is easy to manage it and it reduces the chances of any theft of important documents. 
Customized solutions
If you cannot find an ERP software that caters to all your needs, you can opt for the customized options. These solutions are tailor-made to suit the needs of your business. 
How does an ERP work- The different features of the ERP software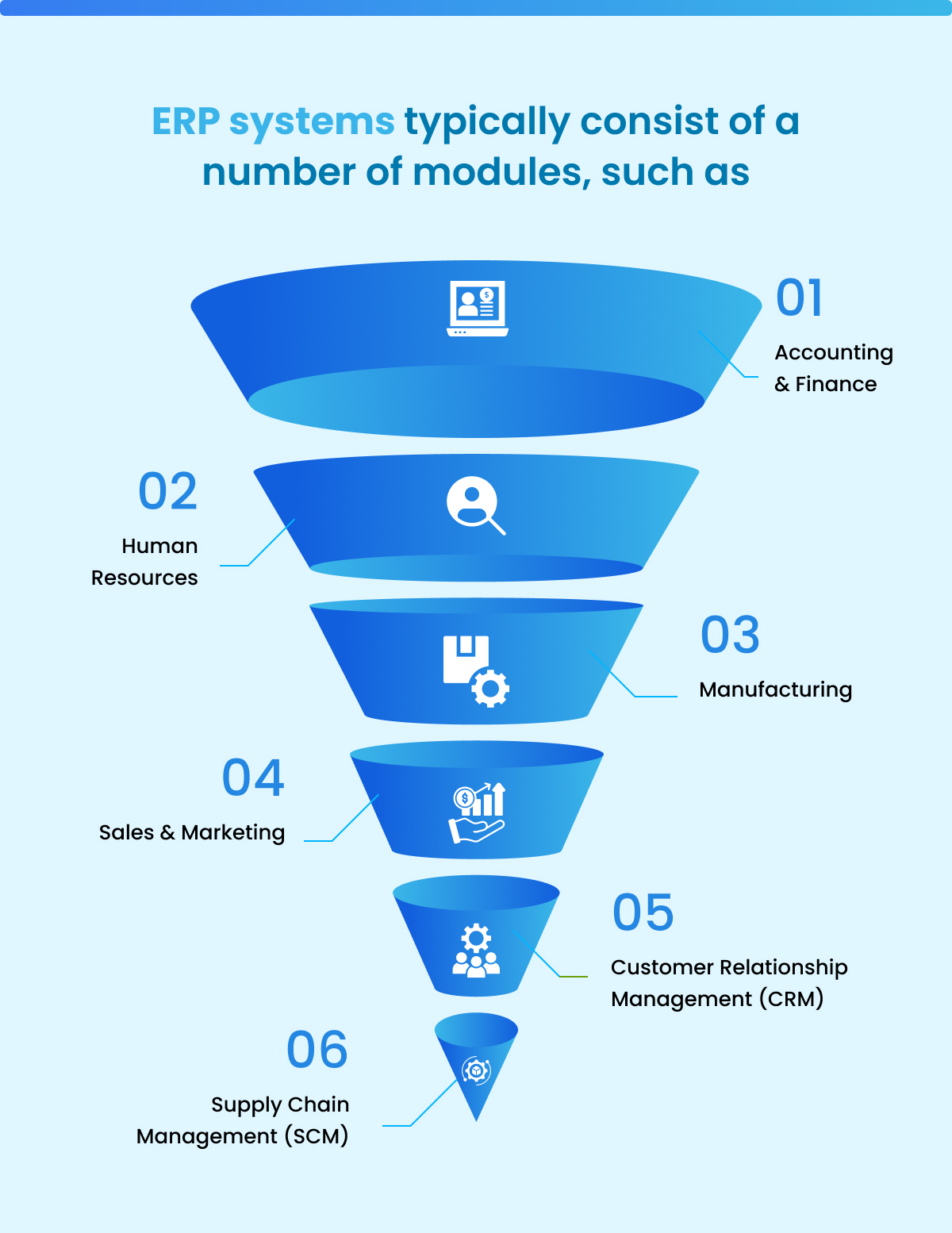 What is ERP and how does it work? What are the various features provided by the ERP software? These are a few common questions which business owners usually ask before investing in an ERP software. The features you get from the ERP software depend on the software provider you choose and also on the package you choose. However, most of the ERP software provides the following basic features:
Accounting
All your financial reports are present in one place; from your purchase orders to payroll- everything.
Read our detailed guide on erp vs accounting systems
eCommerce and web
Online sales have to be dealt with separately from your physical store. This helps in monitoring the profit and sales achieved from your online store independently.  We have covered our detailed MRP analysis in this MRP vs ERP guide.
Human Resources
Employees are equally as important as your customers. With the ERP software, you can manage your employee management processes, such as recruitment, payroll expenses, attendance, etc.
Inventory and warehouse management 
With the ERP system, it becomes very easy to manage your inventory, if your business requires you to have one. The monitoring of the warehouse is done vigilantly to ensure that deliveries are carried out smoothly. 
Project management
For the stakeholders and employees to be on the same page regarding a particular project, the ERP software offers a project management tool. It allows you to communicate productively. 
CRM (Customer Relationship Management) and marketing 
Management of the relationship between your business and customer is an important strategy to help you do better business with other parties/clients. Marketing strategies, on the other hand, allow your customers to engage with your company. This is possible by using different tactics, such as emails, social media, surveys, etc. The CRM helps in giving an insight into how the marketing strategies, which have been applied, are working out. If they are not doing that great, then these strategies would have to be changed accordingly.
Read our detailed comparison guide on erp vs crm. 
How does On-site vs. Cloud ERP work?
The cloud-based ERP software is better for almost all types of businesses, mostly for smaller firms. It is an open SaaS platform that is easier to implement and is much cheaper, in terms of cost and maintenance. The vendors maintain the server, providing you with greater flexibility, time, and money savings. However, internet access is important to use this type of ERP software. The cloud software is usually priced under a month or annual subscription charges, which covers the cost of training, support, and updates. 
On the other hand, the on-site ERP software does not require internet access. The software, once purchased, is totally in your hands, with no third-party involvement. For this main reason, it tends to be much more safer than the Cloud software. However, since the security is in your hands, you would have to pay additional costs to ensure that you have a fool-proof security system.  All training, support, and update costs are geared by the user. 
On-premise software vs. Cloud software- which one is better? To sum it up, it depends on your business requirements and how much are you willing to spend. On-premise software provides its users with more flexibility, readability and security, as compared to the Cloud software. However, the Cloud software requires a reliable internet service. Out of these two, the Cloud software tends to be more famous with the users. 
How does Folio3 Dynamics ERP Solutions work?
Folio3 has partnered with Microsoft Dynamics to provide the most powerful solutions for your business. You can seamlessly integrate all your apps with Microsoft Dynamics, to help save on time and effort to increase your productivity. They have catered to various industries, such as retail and ecommerce, agriculture and farms, food, and animal management, serving more than 300 customers and other major products. A few of their satisfied clients include the Zwilling beauty group, Honda and Citadelle. Folio3 has over fifteen years of experience working with Microsoft Dynamics. This includes:
Microsoft Dynamics ERP
—AX 
—Dynamics 365 Finance & Operations 
—Dynamics NAV
—Dynamics 365
—Dynamics GP
They help with implementation, customization, integration, and support.
Microsoft Dynamics 365 CE/CRM
This helps with a better CRM. This includes business solutions geared towards improving sales through better CRM.    
Dynamics Modules 
—Finance and operations 
—Customer service
—Microsoft Relationship Sales Solution
—Retail
—Project Service Automation
—Power BI
—Talent
—Field Service 
—PowerApps 
—Sales
—Marketing 
—Flow
By now, your main question: what is era and how does it work?, should have been answered. If you are willing to spend on getting an ERP system software, then there are many options for you to choose from. If you are confused, and cannot figure out which software is the right one for you, you can hire an ERP consultant to help you with this issue.
FAQs:
Is SAP an ERP System or not?
Yes, SAP is an ERP system. It is a comprehensive tool that helps businesses manage all of the departments in one place efficiently; exactly what the ERP system software is supposed to do. It provides standard features with a complex user interface.
What is the Microsoft Dynamics ERP with an example?
The Microsoft Dynamics ERP (partnered with Folio3) is an ERP software system, powered by Microsoft, to help in the running of your business efficiently, without any compromise on your quality of goods and services. It achieves this by automation and reduction of paper handling, making things manageable, and hassle-free. Microsoft Dynamics 365, Microsoft Dynamics 365 Finance and Operations, and Microsoft Dynamics 365 Business Central are examples of the ERP system software.