An Enterprise Resource Planning (ERP) software is that exactly. It is an all-encompassing management software that integrates the function of each component of your business. Which means that all departments of your organisations interlink in a way that outputs from one part can become inputs for another system thereby automating many processes in the business that occur regularly. For example, sharing daily sales data for each product line with the production and procurement departments to define production needs. In most cases the ERP accounting system is just a sub-component of an ERP. Folio3 Microsoft Dynamics Partner have outlined some keyword differences in this erp vs accounting systems guide.

Update: If you are looking for ERP vs crm comparison, See this complete guide.
Accounting Software Definition and Meaning
Accounting software is more specific in function and nature. The Accounting Information System (AIS) deals with the financial aspect of the organisation and its processes by recording business transactions, i.e. Accounts Receivables / Accounts Payable, journal entries, and general ledger which are used to produce necessary financial reports such as income statements and balance sheets. Due to this limited focus, accounting software is not able to achieve the same level of integration as an ERP accounting software.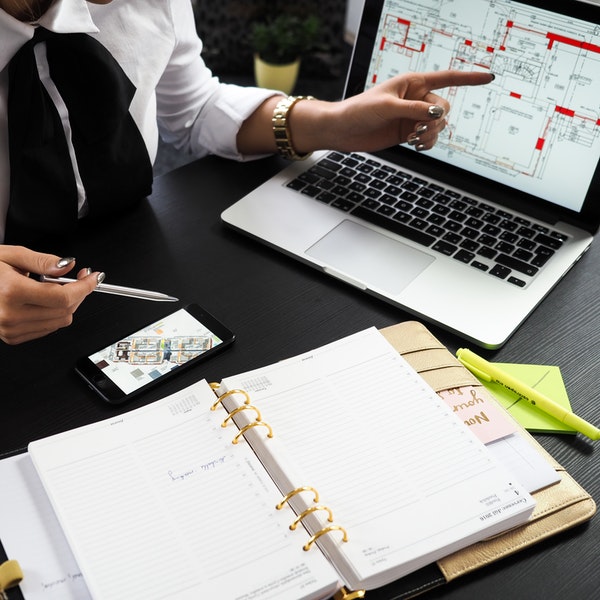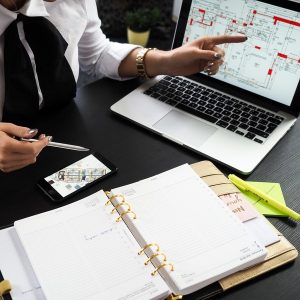 Most accounting software will be able to give you an at-a-glance overview of your company, but because of the lack of integration, such as in an ERP accounting software, it cannot anticipate and help you plan for tomorrow. Therefore, without this data-driven forecasting, companies base business decisions primarily on assumption and guesswork to predict supply and demand which may lead to a shortfall.
What is an ERP Accounting System?
Most ERP products offered today come with accounting software as an entry-level (clerical) package known as an ERP accounting system. As your business grows, and your need for automating more complex data recording and reporting processes increases, you can add more process-specific components; thereby, converting your accounting software into an ERP.
For example, typical accounting software offers financial management, planning, and budgeting features as its basic package. But the same box can be integrated with other business operations such as project and supply chain management, reporting and analysis, and human resources management. In some cases, an I.T. management module can be added as well. Keep in mind that each module is usually licensed separately.
ERP Vs Accounting Software – Major Differences
To fully demonstrate how accounting software and ERP systems differ, there is a need to look at the erp vs accounting software functionality in terms of range of services and magnitude of impact. Accounting software, as indicated by its name, perceives the business in terms of accounting transactions. This includes aspects of the business such as payroll, accounts receivable, accounts payable, and trial balances. Some of the more common modules bundled with accounting software include billing, sales order, purchase order, general ledger, timesheet, expense, and electronic payment.
On the other hand, while there is some crossover between the fundamental functionality of accounting software and an ERP, the two are still different. ERP software is a resource management system, which tracks tangible and intangible assets, materials, human resources, and financial resources. Even though financials are addressed by accounting software, an ERP accounting software will link the financials with the concept of causality. i.e. often factoring in intangibles that affect financial performance such as human work hours, product lifecycles, performance units, and customer relations.
Best ERP Accounting System by Microsoft
Microsoft is considered to be a market leader in the field of ERP software development and systems integration. This is primarily because the company has developed a wide range of systems and sub-components that address all business needs. Some of the best known ERP accounting systems offered by Microsoft are listed below:
ERP Accounting System#1: Microsoft Dynamics 365 Finance & Operation
Microsoft began its journey in professional ERP accounting software in Dynamics AX way back in 2006. Since then, in 2016 the system was rebranded as Microsoft Dynamics 365 for Operations and then reached its final destination of Microsoft Dynamics 365 Finance and Operations in 2017. Some of the core modules included in Dynamics AX include:
General Ledger – ledger, sales tax, currency, and fixed assets features
Bank Management – receives and pays cash
Customer Relationship Management (CRM) – business relations contact and maintenance (customers, vendors, and leads)
Accounts Receivable – order entry, shipping, and invoicing
Accounts Payable – purchase orders, goods received into inventory
Inventory Management – inventory management and valuation such as dynamics shopify
Master Planning (resources) – purchase and production planning
Production – bills of materials, manufacturing tracking
Product Builder – product mode creation and maintenance
Human Resources – employee information
Project Accounting – projects creation and tracking (primarily from an accounting perspective)
Basic – data configuration and integration, such as magento dynamics.
Administration Module – system configuration
Procurement and Sourcing
Sales and Marketing
Store, manage and interpret data
Not much changed over the years in terms of functionality and fundamental purpose. The idea was to bring all of the separate modules and components under one complete product. The product itself will then have a few different modules that can be selected at will by the purchasing organisation. The other possibility, of course, is to buy the entire product and all of the bells and whistles that come with it.
Read our detailed guide: what is dynamics 365?
Using this ERP accounting software could very well be one of the better decisions you make for your company.
Unify global financials and operations to allow fast and informed decision making,
Quickly and effectively adapt to changing market demands and drive rapid business growth.
Improve financial performance to a whole new level by allowing you to close books quicker, deliver reliable reporting, increase profitability with business intelligence, and ensure global compliance.
Run smarter operations as you bring agility and efficiency to your manufacturing by connecting and thereby optimising production planning, scheduling, operations, and cost management.
Automate, streamline and modernise your supply chain with unified, advanced warehouse and inventory management to improve fulfilment, material sourcing, and logistics.
ERP Accounting System#2: Microsoft Dynamics NAV
In many ways, Dynamics NAV works just like the many Microsoft Office tools you may already be familiar with. Working seamlessly with Outlook, Word, and Excel, Dynamics Nav will help you to complete everyday tasks straight from your Inbox. You get the same powerful proficiencies across Android, iOS, and Windows platforms for a consistent and secure experience on desktop, laptop, and mobile device. Thereby, you get things done wherever and whenever you need to work.
Folio3 offers following nav connectors solution:
Shopify Navision, Magento Nav, Amazon Navision
Some of the key features include:
Perform both financial management and accounting,
Manage cash, assets, and banking efficiently and securely,
Manage your manufacturing, operations and the supply chain through one software,
Manage and track vendors, orders, inventory and production,
Encourage sales and improve service delivery,
Manage contacts, sales opportunities, and service contract,
Effectively manage projects,
Create estimates, track projects, and manage capacity,
Flexible but quick deployment on-premises or in the cloud, whichever model best fits your business,
Business intelligence with reporting
A holistic approach to your business
Compete globally using multiple currencies and languages.
Benefits of using an ERP vs Accounting Software
The most significant advantage of utilising an ERP accounting software over a standard accounting software is in how much more you can do with an ERP. The many different modules that the Dynamics 365 product covers give you the power to effectively strategise and manage your organisation the way you want to.
Read our detailed guide: ERP Consultant, Definition and Responsibilities
ERP systems, even ERP accounting systems, are an asset for any organisation. They make your business operate on an even keel by collecting and securing your information through automated processes and producing easy-to-understand patterns. With these and many more competencies, the benefits of ERP systems in an organisation make your day-to-day operations and long-term planning more efficient. Below are several of the most significant ERP benefits when implementing this type of software:
Focused IT Costs

Unify IT costs and improve efficiency instead of spending resources on multiple systems

Total Visibility

Complete understanding of every critical process in your business by making data easily accessible

Advanced Planning and Reporting

Employing the same ERP suite across departments means your organisation has a single, unified reporting system for every process

IQMS ERP

Business Intelligence functionality allows businesses to gain a deeper level of analytical insight into their operations.

Complete Customization

Many ERP vendors offer multiple applications that can be implemented together according to business needs. Improved Efficiency

Reduced IT and training costs, time and effort

Properly implemented, an ERP can significantly reduce or eliminate repetitive manual processes

Customer Service

Because client information is centralised and streamlined, your sales team will be able to focus on building and maintaining customer relationships instead of keeping spreadsheets.

Data Security and Quality

One of the most significant advantages of an ERP system is data safety. After all, at the heart of every ERP concept lies data.
A single repository of information helps improves the accuracy, consistency and security of your company's data.

Improved Collaboration and Workflows

An ERP platform streamlines the process of cooperating with others by providing employees with access to data as and when they need it.

Standardised Business Processes

Tried-and-true processes bring significant benefits to the table for businesses of all sizes.

Facilitated Regulatory Compliance

ERPs aid in regulatory compliance through secure and validated data, combined with built-in reports.

Improved Supply Chain Management

An ERP enhances the supply chain by shortening lead times, helping to deliver on time and many other benefits that will enhance the overall operations and success of your business.

Superior Scalability

Putting a system in place that can elegantly and efficiently accommodate your company's growth is of the utmost importance, and the right ERP system makes it easy.
Conclusion
Whether you're expanding your customer base; entering new markets; rolling out new processes, departments or products; or are otherwise growing your business, adding new functionality to an ERP platform is comfortable with the right software vendor. Although even the most advanced accounting software will let you simulate how an ERP works, a true ERP accounting software will do much more. Integrated management of every aspect of the business according to how it should be handled is more effective. Often, companies that use accounting software as an ERP end up moulding their administration and management style to suit the software rather than the other way around. Therefore, if you can, it is always a better idea to go for an ERP accounting software such as Dynamics 365.
Please do share your valuable feedback and don`t forget to share erp vs accounting systems guide.
What's Best for You? ERP or Accounting Software?
Because businesses demand a complete software solution, ERP continues to consume the accounting software market. Understanding the differences in software functionality is critical to your company's near and long-term success. At the end of the day, it simmers down to what you really need. Do you need a software that will help you manage your business and track performance end-to-end or do you need a software to keep track of your finances? The direction you choose will depend on how you answer that question.
Is QuickBooks an ERP system or tool?
QuickBooks is not an ERP in fundamentals. It is a speedy and efficient way to manage accounting transactions and specific features such as sales and expenses besides the prominent financial elements. Furthermore, QuickBooks is not the most flexible system on the market. There are several versions available, which means that you will have to comply with a specific user profile and, at the same time, purchase a version that won't expand the way business is growing. You will have to buy a new version every time there is an update or if you want to develop. QuickBooks may allow you to meet your needs if you're in a hurry. But long-time success is best achieved through the use of an ERP. In other words, QuickBooks may emulate an ERP accounting software, but will still leave you unsatisfied in terms of usability and access.