An Enterprise Resource Planning (ERP) is a complete management software that integrates each component of your business and automates routine tasks and any relevant decision making. By effectively managing data and helping streamline processes, an ERP revolutionizes the way you do business and helps identify areas of improvement. Although, for seamless integration, you will need to hire the services of a qualified partner to help with integration. For example, with Microsoft Dynamics, you will need a certified Microsoft Dynamics Partner. 
In this article, we discuss Microsoft Dynamics vs SAP since both companies have become leaders in this field and offer some of the best in ERP implementation and integration. For this purpose, we have identified four critical elements of any ERP centered around functionality, cost, and ease of application.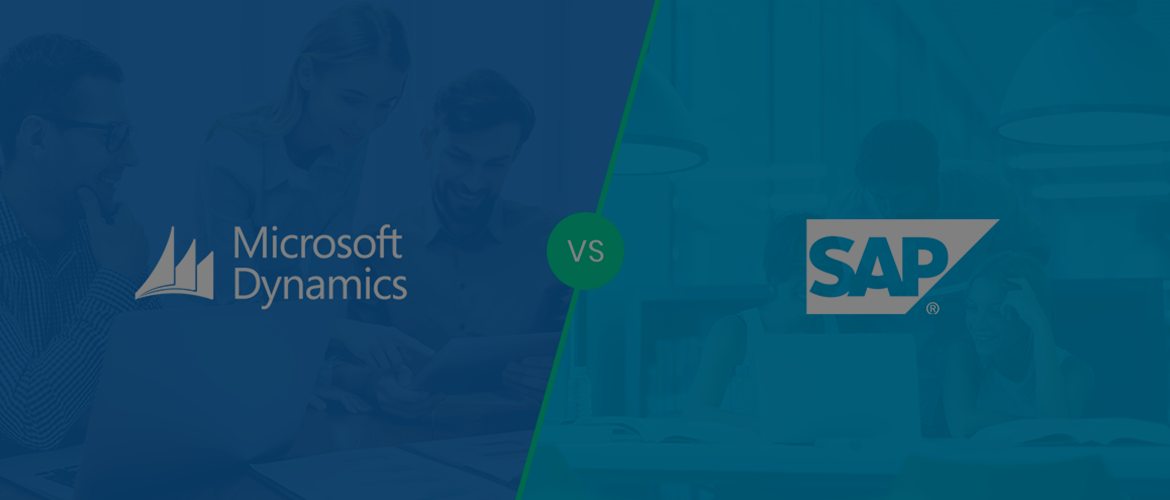 Note: For a comparison with Salesforce, you can peruse our Dynamics vs Salesforce blog for a complete comparison between the two.
How We Reviewed Microsoft Dynamics and SAP Functionalities
Listed below are the four criteria selected for evaluating and comparing the performance of SAP vs Microsoft Dynamics:
We selected each criterion for debating Microsoft Dynamics vs SAP because each pertains to areas where the most hurdles commonly spring up during the adoption of any new system. For example, how much the software will cost impacts cash flow at least in the short term. Similarly, if the functionality is limited and the scope of your operations broad, the ERP will fail no matter how much you invest both in terms of time, effort and money. Keeping that in mind, we will discuss each parameter in further detail below.
Microsoft Dynamics vs SAP – Quick Review
Generally speaking, SAP vs Microsoft Dynamics is better for users operating in retail because it features proper product development functions, made to order processing, as well as reliable quality control functionality. Furthermore, it offers practical tools for cash management and accurately mapping goods in transit. However, it is less intuitive and less customizable than AX. Although implementation is faster for SAP, and it suffers from fewer disruptions of service, these disruptions tend to last longer.
Microsoft Dynamics AX vs SAP, on the other hand, is relatively more flexible and easy to use. The user interface is browser-based and therefore, more intuitive than SAP with strong support for inter-organization connectivity. Dynamics also offers reliable production, MRP, and trade capabilities with powerful Business Intelligence integration (mostly due to Microsoft Power BI).
Side by Side Comparison
Criteria
SAP
Microsoft Dynamics
Functionality and Ease of Use

Standardized features but with complicated UI

Many flexible features with user-friendly, web-based UI

Cost and Pricing

Quote based

Starting from $8 with options for monthly and one-time payments. Also, quote based

Integration and Implementation

Integrate with most third-party and SAP applications

Performs best when integrated with other Microsoft apps. Third-party integrations are limited but Shopify, magento, amazon connectors would be useful.
Customer Service

Full support without training

Full support including training
SAP vs Microsoft Dynamics – Functionality and Ease of Use Review
Change is never dull even at the best of times, but certain elements can ease the process and make people more accepting of the change. Since people need to form a habit to make a change in their behavior, each piece of software you bring in must have an intuitive design and transparent in its purpose.
However, when buying any such software, no vendor will ever tell you that their software is not easy to use. You will have to figure out that for yourself or hire a qualified partner. In either case, functionality and ease of use are about more than just usability. Besides the effort required to use the tool (which is a significant component), you should consider the ease of integration into the daily workflow and how smoothly it fits in or integrates with the other tools in your systems. According to ISO standard 9241, the definition of usability is the degree to which a product can be used by the intended users to achieve specific goals with effectiveness, efficiency, and satisfaction in a specified context of use."
Dynamics – Pros and Cons
Pros
Dynamics offers a vast range of features geared towards flexibility and customization.

Multiple language support with many currencies Dynamics is also multi-lingual and can support multiple currencies.

Web-based UI makes interfacing much easier
Cons
Web-based UI can be a problem for businesses operating in regions with poor infrastructure
SAP – Pros and Cons
Pros
More suitable for large enterprises that need robust, standardized features;

Also offers a basic application with all the core functionalities of an ERP with the option to add on later as your needs change;

It comes with great BI features with intuitive dashboards, data storage, and report writing.
Cons
It takes far longer to gain mastery in SAP vs Microsoft Dynamics;

UI is not engaging and is complicated;

No flexibility in the features themselves.
Microsoft Dynamics Versus SAP – Cost and Pricing Review
Total Cost of Ownership (TCO) for and ERP software is the combination or sum of all its direct and indirect costs incurred either during implementation, during operations or after the ERP retires. The Total Cost of Ownership is a critical element when calculating ROI for any ERP software. However, only too often, it is underestimated and sometimes even ignored. The following table outlines some of these costs:
Start-up costs

Incurred during implementation

Operational costs

Incurred during operations

Retirement costs

Incurred when retiring software;

Software;

Hardware;

Implementation;

Data migration;

User licenses;

Training;

External system interface costs;

Customisation.

Software maintenance and support;

Patches;

User licenses;

Training;

Enhancements;

User and admin support

Backups, disaster recovery and high availability;

Data centre;

Depreciation;

Upgrades;

Security.

Data export;

Archived systems;

Inactive licenses.
Most companies admit that they often go far beyond the expected cost because they did not consider all the indirect costs associated with shifting to a new system. However, some ERPs, such as Microsoft Dynamics, offers many modules to choose from so companies can be selective in what they want to use and what they would rather avoid. This flexibility can help keep costs in check.
Dynamics – Pros and Cons
Pros
Each feature is optional so companies can opt-out if required;

Available in multiple payment plans and you can also request a quote;

Free Trial

Enterprise User – $185/user per month

Task User – $30/user per month

Self-Service User – $8 per/user per month

Device licenses – $73/user per month

A wide array of supported devices means you may not need to invest in new tools as well.
Cons
To make the most of the "Enterprise User" plan, you need a minimum of 20 users which restricts it to larger companies;

May become expensive for small and medium organizations if they want to make use of all the features.
SAP– Pros and Cons
Pros
A cheaper option for a large organization which requires standard features without the need for add-ons later on.
Cons
Pricing is only quote based. There is no way to judge for yourself;

Lack of flexibility in customization means that SAP can ultimately become very pricey.
SAP Vs Microsoft Dynamics – Integration and Implementation
This criterion measures the ease with which the new ERP can integrate with existing systems, third party applications, and current databases as well as the skill displayed by the implementing partner. Good companies will focus on proper planning. Converting to a new system can quickly derail because companies fail to plan the project realistically. Or if there was a plan, the execution did not comply with it. The approach to implementation should be collaborative for the best results.
Furthermore, companies often fail to address the possible changes required during the integration or implementation of the software. The vendor must holistically understand and modify (where necessary) each business process to make sure it fits in seamlessly in the new system.
Dynamics – Pros and Cons
Pros
Can integrate seamlessly with any Microsoft product with backward compatibility as well;

Lots of flexible features mean integration with third-party apps may not be necessary.
Cons
Integrating with non-Microsoft products is an issue. The options are limited.

Integration tends to take longer, given the flexibility and customisability of each feature.

It cannot be accomplished without a qualified Microsoft Dynamics Partner.
SAP – Pros and Cons
Pros
SAP builds all its systems in-house and adds its features and upgrades;

Integration and implementation time is usually shorter since features are standard.

Integrates well with most third-party applications meaning switching will be more comfortable;
Cons
Understanding SAP and all its functions can take time. Complicated UI does not help.
Microsoft Dynamics Versus SAP – Customer Service Review
Customer satisfaction is the primary priority for both software vendors and implementation partners. "Customer happiness" is a top priority that ensures that all actions focus on the customer's best interests. When engaging with either, you should ask yourself whether the account executive is listening and whether you feel a high level of trust and comfort when discussing mission-critical business processes.
Furthermore, prompt responsiveness and transparency are critical elements of any good implementation process. Therefore, regular communication and subsequent channels should be available to you. You should select a vendor or an implementation partner with a quick turnaround time for queries and one that offers dependable support services.
Dynamics – Customer Service Review
Microsoft Dynamics offers 24/7 support through multiple channels for any queries. This support includes dedicated training for all modules and live support online as well as over the phone. However, it does not offer any email support. If that is not enough, the implementing partner can usually cover your training requirements.
SAP – Customer Service Review
On the other hand, SAP does offer email support, along with live support online and over the phone. However, the company does not provide any dedicated training for the customer. Any exercise will have to be requested from the implementation partner or using the manuals that come with the application.
Microsoft Dynamics vs SAP Alternatives
So far, in the SAP vs Microsoft Dynamics debate, we have seen that both are exceptional ERP software that maps crucial business functions for an organization and then develop effective solutions. However, it is possible that both cannot offer what you are looking for, and you want to explore other options. It is also possible that neither is an affordable tool for small size organization due to the necessity for experts to maintain the entire system, which puts an additional costing burden on them.
Here, is our list of top systems that could serve as an alternative to either Microsoft Dynamics or SAP. The list includes both commercial and open-source tools containing popular features.
Oracle Business
The Oracle E-business Suite (aka Oracle EBS) is an integrated collection of applications geared for the company. It automates both CRM and ERP functions coupled with streamlined supply chain management. The list below outlines popular features:
Reduce time and attendance record-keeping costs through automation;

Enforce organizational policies easily through real-time tracking;

Employees can quickly and conveniently submit, view and track submissions and timecards which means a reduction in both under and over-staffing;

Make informed decisions based on labor data analysis;

Maintain a central skills repository for effective knowledge management;
Net Suite
NetSuite is a good alternative that can help you streamline mission-critical processes. The NetSuite ERP enables businesses in accelerating growth. Here are some of the top features:
Combine data with advanced visual analytics to generate business insight;

Reduce turnaround and cycle times and engage users more effectively;

Enhance the planning process and ensure schedules user follow the set path;

Customizable functionality in keeping with company growth;
EPROMIS Business Suite
The EPROMIS business suite facilitates data analytics and decision making in real-time. Secure, customizable and flexible tools ensure you can manage your business the way you want. Listed below are some of its popular features:
Mobility support means the EPROMIS ERP can function on most smartphones and tablets enabling user access anytime and anywhere;

Gives you the option to select a deployment platform which works best for you;

Make more data-driven decisions with updated analytics as data comes in;

Improve your carbon footprint by reducing, often eliminating all printing and filing.
Financial Force
Financial Force is a cloud-based tool that was built using the Salesforce platform. The app does offer ERP like features but with a focus on financial management. Although, in this case, keep in mind that there is a difference between accounting software and ERP.in much the same way as Microsoft Dynamics AX vs SAP. Listed underneath are some of the features offered by Financial Force:
Helps with achieving effective financial management with easy to use accounting applications;

Social collaboration options allow for a customer-centric approach thereby improving customer relationships;

A dashboard reporting feature means you can get a quick overview of your business at-a-glance. 

Advanced analytics gives you consolidated data on resource utilization;
ERPNext
ERPNext is a reasonably comprehensive tool that gives you complete control over the business and how to manage each business process. Deploy as you see fit either on-premise or in the cloud. With the flexible pricing scheme, both small and large organizations can use ERPNext for their management needs. See the list below for some of their popular features:
A comprehensive user interface means less training required during implementation;

Social networking and messaging applications mean your team can stay connected on the go both internally and with customers;

Support for multiple currencies;

Strong accounting features with tax;

Warehouse and inventory management options;

Optional attendance management system;

Tools for website design and publishing.
AscentERP
Owners of manufacturing and distribution businesses came together to create this ERP software. It helps improve processes and bring efficiency to business operations. See the list below for some of their features:
Increase and enhance both internal and external communication;

System for effective scheduling to ensure timely deliveries;

Efficient tracking for both human and mechanical resources;
Epicor ERP
This ERP tool offers above-average functionality for accounting, inventory control, pre-production materials planning and manufacturing execution. This tool provides many essential performance indicators to monitor product profitability. Outlined below are some of its best features:
Growth strategies for manufacturing;

Management tools for enterprise data;

Financial management applications;

Scheduling and planning;

Production management and supply chain management;

Global business management.
Birst
This Microsoft Dynamics alternative is an advanced enterprise software with built-in business intelligence and analytical software. Birst facilitates the business in understanding and thereby optimizing even the most complex business processes.
Networked based BI virtualizes the data and subsequent analysis system. You can then quickly transform your BI approach;

Mobile access to all your data;

BI dashboards and discovery become one with Birst which means you can create a unique user experience;

The software provides a platform that allows concise data management and visual analysis.
Ramco ERP
Ramco ERP is one of the most comprehensive cloud ERP alternatives available. It offers a solution to cater to any dynamic requirements of fast-growing enterprises. Using this software, you can optimize complex business processes and thereby improve the efficiency of the entire company. Features include:
Deployment on both on-premise and cloud-based platforms;

Ramco ERP is scalable, flexible, and available in pay-per-use models making it suitable for any size of business;

Get geo-enabled mobile ERP apps from location and contextually aware feature;

Fully supports multiple operating systems including Microsoft, Linux and iOS.
Conclusion
In the Microsoft Dynamics vs SAP debate, the final decision will always depend on your specific requirements. Nonetheless, in the comparison above, it is safe to say that Microsoft Dynamics has come out on top. Microsoft Dynamics offers more in terms of support, functionality, and customization. Although SAP is an excellent ERP provider, Microsoft has managed to overtake it and provide an application that is both powerful and comfortable to use.
Which is better? Oracle or SAP or Dynamics?
Selecting an ERP can end up being very much like buying a car. Every buyer, and in this case, every business has unique requirements. Similarly, some buyers want a vehicle with all the trimmings, some want or need the basics while some others think they want to buy a car when what they need is a motorcycle. Furthermore, every car manufacturer will offer different benefits for different prices and there a host of features and services that you have to consider. But you must always see which features are best suited to you. In the same way, selecting an ERP should begin by identifying what you need your ERP software to do. Do your research, read reviews, and discuss options with someone you trust. As for choosing a winner from Microsoft Dynamics vs SAP vs Oracle, the winner is the one which best fits your organisation. The rest does not matter.
Is SAP an ERP System?
An ERP software is a comprehensive tool that businesses use to manage all of its departments and bring them into a cohesive whole. These include but, not limited to finances, accounting, human resources and manufacturing processes. The backbone of every good ERP platform is its database, which helps businesses collect essential information on employees and clients. All of this feeds the various features to aid professionals in managing daily operations. SAP is a veritable expert in this field and as such, is a recognised name in the ERP industry.
What is Microsoft Dynamics AX used for?
Microsoft Dynamics AX is a business application created by Microsoft. It is an ERP geared towards helping businesses manage back-end operations and aligning them with front-end applications. The app covers areas such as business intelligence, financial management, warehouse management, retail, e-commerce, inventory management, service management, project management, manufacturing, distribution and human resources. Although Dynamics AX doesn't have all the features of a complete CRM, it does offer limited sales and marketing capabilities. However, Microsoft Dynamics AX is now a part of the Microsoft Dynamics 365 suite, which contains both ERP and CRM components (which Microsoft now refers to as "apps").