Making the big move from traditional software to CRM is a big step. Not only will you implement software that will transform the way you work., but also take your business intelligence to the next level. Given the significance of this decision, it stands to reason that you would like to make the best possible choice. However, this decision can be challenging, given the options out there. ERP vs. accounting software, ERP vs. CRM software are some things to think about when making your choice. In this article, we discuss Microsoft Dynamics vs Salesforce. These two mammoth service providers each have their USPs and cons, which we will compare here today.
Microsoft Dynamics vs Salesforce - The Ultimate Comparison Review
How We Reviewed Microsoft Dynamics 365 and Salesforce
Deciding on which of the two to use boils down to a combination of personal taste and the best fit with your company's needs. Both Microsoft Dynamics and Salesforce are CRM tools that typically cater to large teams and subsequently offer similar core functionality. However, Salesforce vs. Dynamics is a pure sales CRM while Microsoft Dynamics offers CRM services focused on improving operations management. In either case, the following points illustrate the criteria we used to examine the Microsoft Dynamics vs Salesforce debate:
Price – Comparision of MS Dynamics vs. Salesforce in terms of:
per-user cost

any minimum license requirements

and any additional fees
Features – Comparision of how each product delivers core CRM functionality such as: 
contact management;

deal and activity tracking;

process automation;

customization capability;

System integrations.
Ease of Use – Comparison of MS Dynamics vs. Salesforce in the comfort with which users can:
Set up the software;

Interact with the user interface both in aesthetics and functionality;

Training requirements and the subsequent availability of resources;

Inclusion of mobile access in the tools offered.
Customer Service – Comparison MS Dynamics vs Salesforce in terms of:
Customer service;

Technical support policies.
User Reviews – Comparision of the critical and user reception for each product;
Following our analysis, Microsoft Dynamics versus Salesforce is ideal for large sales teams that need integration with Microsoft apps, Magento, Shopify and coordinates smoothly with operational activities. Salesforce, on the other hand, is the better option if your business wants a tool focused on sales and sales alone. The ERP-like functionality of Microsoft Dynamics makes it the better choice of the two.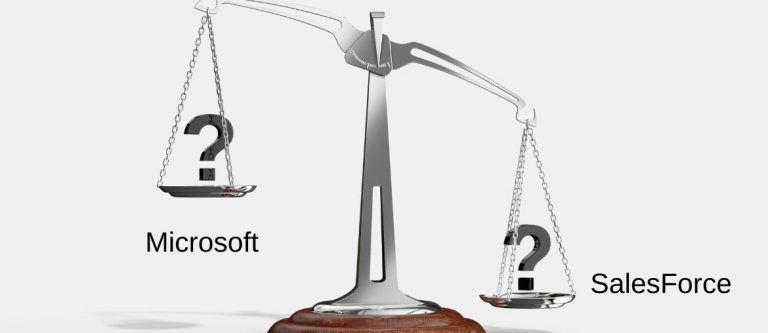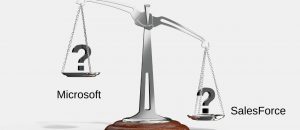 Furthermore, although Salesforce vs. Dynamics offers a near entry-level price point, the price of complete services is more than double that of Microsoft Dynamics. At the same time, to allow this low price for smaller teams, some of the features are diluted to the extent they may not be relevant anymore.
Microsoft Dynamics Vs SalesForce – Quick Review
Microsoft Dynamics vs Salesforce at a Glance

Microsoft Dynamics 365

Salesforce

Pricing

$65 – $135

/user/month

$25 – $300

/user/month

Hosting

On-Premise, Cloud, Hybrid

Cloud

File Storage

10GB shared storage

for 1 to 20 users

1GB data per user

for 1 to 20 users

5GB for each additional

11GB shared storage

20 users up to 5TB

Technical Support Included

✔

✔

Entry-Level Plan Designed for Small Teams

X

✔

Operations Management

✔

X

Contact and Task Management

✔

✔

Lead, Opportunity, and Case Management

✔

✔

Quotes Management and Order Processing

✔

✔

Sales Process Automation

✔

✔

Third-Party Integration

✔

✔

Mobile Access

✔

✔

Ease of Use

Training recommended

Training recommended
When to Use SalesForce in Your Business
Salesforce is a CRM software designed with mid- to large-sized sales organizations in mind. Although it does offer contract and order management, the USP is in the cross-sell knowledge base and the vast number of free sales automation apps in the AppExchange system. Therefore, Salesforce focuses more on managing sales and sales-related activities than general operations.
When to Use Microsoft Dynamics 365, Nav and CRM in 2019
Microsoft Dynamics, on the other hand, is a CRM ideal for large teams that include salespersons as well as employees from different departments in the company. Such a group requires both sales and general operations management functionality. Furthermore, as a Microsoft product, it works well with software such as Word, Excel, and PowerPoint with the option to purchase addon modules such as accounting and inventory management. Unfortunately, however, Dynamics does not integrate well with just any third-party app. If there is a connector available i.e amazon, the integration will be seamless but otherwise, close to impossible. So if you want to manage all your operations in one place using Office tools as a companion, Microsoft Dynamics is best for you.
Read our brief guide on what is dynamics 365.
Microsoft Dynamics VS Salesforce Alternatives
As mentioned earlier, both Salesforce and Microsoft Dynamics offer a lot of services geared towards improving sales management and related activities. Where Salesforce may offer better sales tools, Microsoft Dynamics provides a more holistic approach to business operations. Either way, smaller businesses may consider alternatives such as Freshsales. This app provides basic functionality like contact and task management, sales pipeline stage visibility, and activity tracking at a fraction of the price.
Salesforce vs. Microsoft Dynamics – Pricing and Cost Review
Microsoft Dynamics versus Salesforce costs less overall but has a higher cost for the standard plan. Salesforce offers more for a smaller business with its more affordable packages. The program provides entry-level features with just enough small-scale users off the ground. Given that Microsoft Dynamics does offer the same, Salesforce is the clear choice between the two for small teams requiring primary contact and deal management based on price. However, the next tiered plan requires $10 more per user per month than the similarly featured Dynamics plan.
Salesforce Pricing in 2019
While Salesforce does offer a free trial, the paid services start at $25 per user per month and go up to $300 for the more high-end plans. The more advanced programs provide extended functionality in terms of additional customer and technical support, including configuration support.
Lightning Essentials
The Salesforce Lightning Essentials plan includes necessary contact, task, and opportunity management functionality at the cost of $25 per user per month. However, given the budget scope of the product, it does not include sales forecasting or quotation management tools. Furthermore, unlike the higher end plans, it does not integrate with Google Apps or allow for any configurable profiles based on roles and responsibilities. Moreover, the program is limited to five users and is therefore suitable for smaller sales teams. The tool helps manage contacts as well as stay abreast of any follow-up tasks, but do not necessarily need any sales forecasting analytics.
Lightning Professional
The Salesforce Professional plan costs three times as much at the Essentials package at $75 per user per month. Features include additional lead management tools such as lead routing and rules-based scoring not offered in the Essentials plan. Furthermore, there is a feature for managing a knowledge base to help salespeople with their cross-selling efforts and forecasting in a collaborative environment. Additionally, the Professional package provides email marketing campaigns, dashboard reports, case management, and quotations, as well as Google and Outlook integrations. However, unlike the Essentials plan, the number of users is unlimited but without specific organization or territory management and workflow automation. Therefore, this plan is best for sales teams that operate with a high degree of independence but still want a centralized system for managing customer relations, quotes, and marketing campaigns.
Lightning Enterprise
The Salesforce Lightning Enterprise plan gives users the usual contact management features as the Essentials plan along with additional marketing and leads scoring tools from the Professional program. It also provides team and territory management and shared calendars. However, these added features can cost anywhere between $150 per user per month with limited customer support or up to $300 per user per month with unlimited customer support. Therefore, the Enterprise plan is best for team-based sales groups that require support for Salesforce's Lightning Platform as well as third-party app integrations.
Microsoft Dynamics 365 Pricing in 2019
Microsoft Dynamics tiered pricing plans range from $65 per user per month to $135 per user per month. Additional support is available as an add-on to any package as an additional monthly subscription of $5-$9 per user per month, which gives faster customer support and direct channels to Dynamics experts. Furthermore, even though the initial cost of purchasing a Microsoft Dynamics subscription is high, later purchases are significantly cheaper, with discounts up to 50%.
Read our detailed Microsoft dynamics pricing guide for more information.
Microsoft Dynamics CRM vs. Salesforce Ease of Use and User Accessibility
Microsoft Dynamics versus Salesforce, in terms of ease of use, is similar in that both have a web-based user interface that clubs together information of a similar nature. For example, both apps will display accounts and related follow-up activities on a single page. Furthermore, depending on the pricing plan, users can add additional fields and customize dashboards with administrative privileges. Both tools come equipped with functionality that can overwhelm the average user but, given the appropriate training, you can become an expert in no time.
Does SalesForce Have Easy Accessibility?
Salesforce is a simple cloud-based tool instead of the typical desktop app, which gives you access no matter where you are. The only thing you necessitate is a computer (handheld devices will work as well) with a connection to the internet, and you're operational. The available user interface is a simple web page. Users can navigate the page by clicking on links on the side. Each link has a separate group to enable quick identification. Furthermore, Salesforce hosts an app exchange marketplace that provides a platform where you can locate many different third-party applications that can improve the core functionality of Salesforce. Added features may increase your monthly cost.
Microsoft Dynamics 365 – Ease on Cloud As Well
Microsoft Dynamics offers a range of hosting options, including cloud, on-premise solutions, or a combination of both. The diversity in scope means that you can control your data rather than rely on Salesforce servers. Similarly, the Microsoft Dynamics' user interface is browser-based, though navigation options appear more like buttons than links. Furthermore, Microsoft Dynamics provides a search bar for more straightforward navigation. You can jump from screen to screen even if you're unsure about where to find the specific view you need. The ease in search gives Microsoft Dynamics a slight edge over Salesforce in terms of functional design. Although, keep in mind that Microsoft Dynamics is not limited to just the cloud format. You can get Dynamics with cloud, on-premises, or hybrid deployment depending on your requirements.
Salesforce vs. Microsoft Dynamics Customer Service Review
Microsoft Dynamics versus Salesforce in terms of customer service is even. Salesforce offers free limited technical support and customer training with all three packages they offer. You can communicate directly with a Salesforce agent to understand your product and its uses better. Microsoft Dynamics provides the same services and more but with unlimited access to technical resources.
Microsoft Dynamics 365 Customer Service
Microsoft Dynamics provides support in three tiers. The standard plan offers support as soon as you purchase a subscription with unlimited access to technical resources, support groups, and the community. For additional access to professional experts, you can buy an additional monthly subscription for $9. Anything more than that comes under the 'Unified Support Plan' for which pricing is available upon request.
Salesforce Customer Service
Salesforce also provides access to support groups known as 'success communities' and technical resources. You can interact directly with other Salesforce customers, get guided online training, and access self-service portals. 24-hour support is available at an additional 20% of the net subscription charges. The last plan, 'Premier Plus,' is available at 30% of the same.
Microsoft Dynamics Versus Salesforce Real Customer Reviews – No Bluffs
Microsoft Dynamics vs Salesforce customer reviews are mostly mixed. Neither tool stands out against the other as a clear winner. Salesforce seems better in terms of task management while limited to sales activities, while Dynamics offers greater customization and overall management capability. The consensus stands that anyone considering making a purchase should thoroughly examine their sales process before implementation to avoid mishaps down the line.
Salesforce Customer Reviews in 2019
Salesforce users mostly complain about 'false advertising' in that it is not as much of a 'turnkey' solution as it is made out to be. Therefore, implementation can be disappointing, especially if you have not taken the time to define your business processes. Furthermore, users applaud the cloud bassed functionality and the ease with which Salesforce integrates with other third-party products. However, there is indeed a steep learning curve.
Microsoft Dynamics 365 Customer Reviews
In this case, users of Microsoft Dynamics users report that the tool could be easier to use with an interface loaded with more infographics and other such visuals. Tasks, much like quotes, require several steps, and it can take a while to get to where you want to be. Users cite the ability to hide and customize tabs and fields as well as tracking communications within the tool. However, users also appreciated automation in data transfer and compatibility.
Conclusion
Based on core functionality in the Microsoft Dynamics vs Salesforce debate, the former is a better idea for organizations with large teams and resources. These teams usually require integration of sales and operations. In doing so, activities have the potential to become seamless. Although, it wouldn't hurt to have entry-level pricing as well to enable a smaller business to take advantage of the services offered. Furthermore, the tool does require additional training to improve the user interface and get the most out of your monthly license costs. Small business owners and sales managers can spend less time reading software manuals or watching training videos with more user-friendly CRM.