---
Ultimate Guide to Payroll Benefits, Setup & Enrollment in Dynamics AX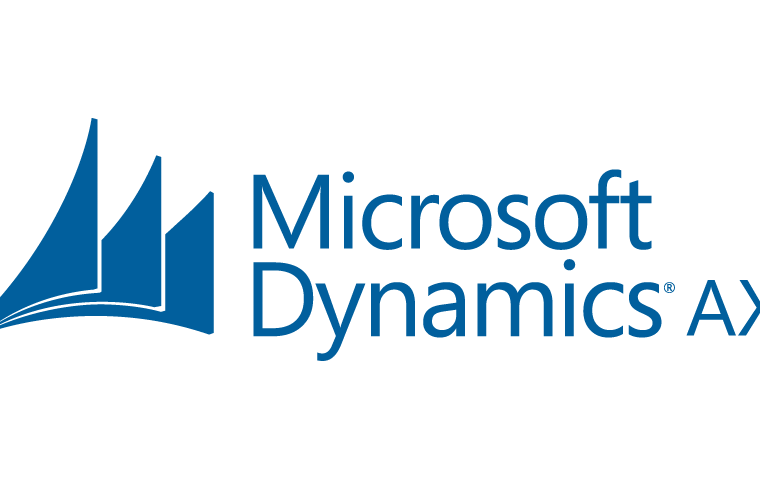 29

Jun 2017

In today's business, only having job and paycheck is not enough for employees, so organizations provide different benefits to the employees such as medical, insurance, retirement etc. MS Dynamics AX provide extensive functionality to set up automatically handle such benefits and tie up these with the employee's payroll.

In this series of blogs we'll cover the complete, step-by-step, setup of the benefits, benefit types, benefit plans, contribution and deductions and the enrollment of the employees to the different plans.

Setting up Benefit Elements (Basis of Benefits):
Types

Payroll Category

Payroll Enrollment
Setting up Benefit Plan
Payroll Impact
Payroll Details

Methods
Types
Limits

Accounting

Vendor
Dimension
Accounts
Options
Coverage
Setup Benefits:
Calculation Rates
Benefit setup
Versioning
Enrollment to the Plan
Enrollment
Eligibility and Eligibility Rules
Expiration
Employee specific Setup (Contribution, deductions, dependents and beneficiaries, expiration etc.)
In this, we'll cover Benefit Elements:
Types – A collection of plans for a specific benefit.
Plans – A specific benefit contracted from a provider.
Options – The coverage level, such as employee only or employee and spouse.
The illustration below briefly explains the concept and relationship between the three elements.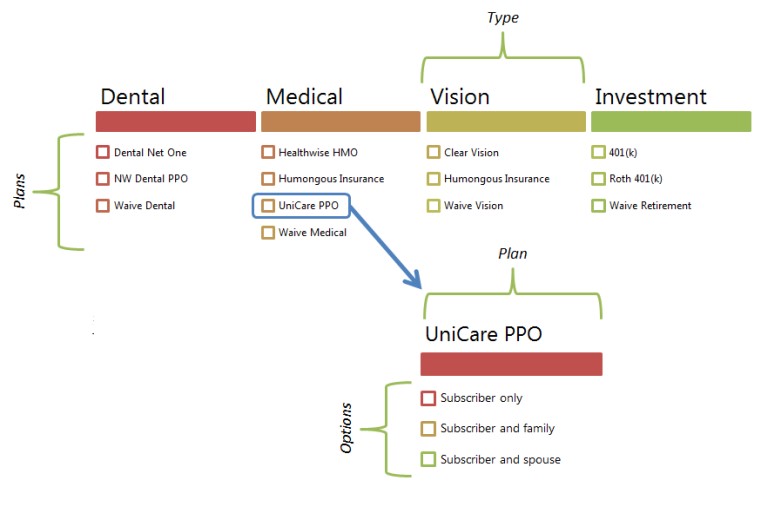 Types
Types are the collection of plans for specific benefits for e.g. Medical, Gratuity, Pension or parking etc.
Let's create a Type, You can create Benefit elements from either Human resource or Payroll module:
1.Click Human resources > Setup > Benefits > Benefit elements.
2.In the Types area, click "New" button to create a new type.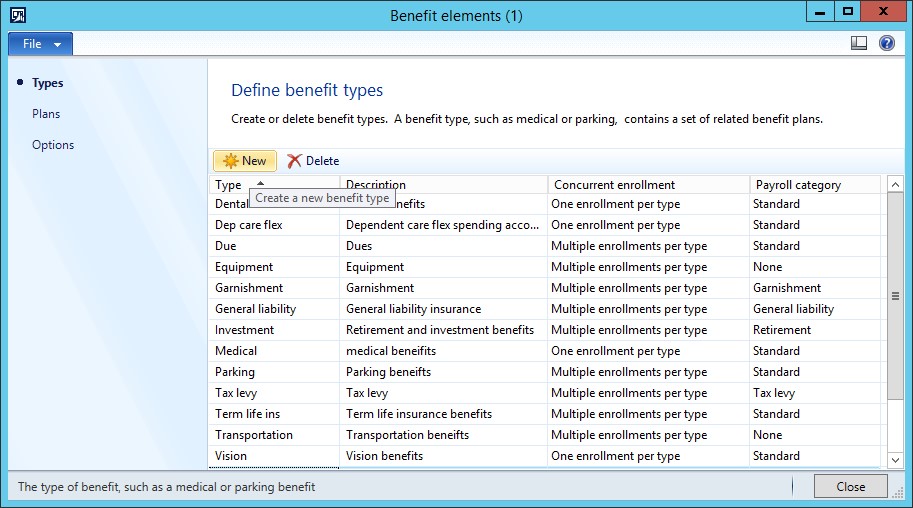 3.Provide, Type, description, concurrent enrollment and payroll category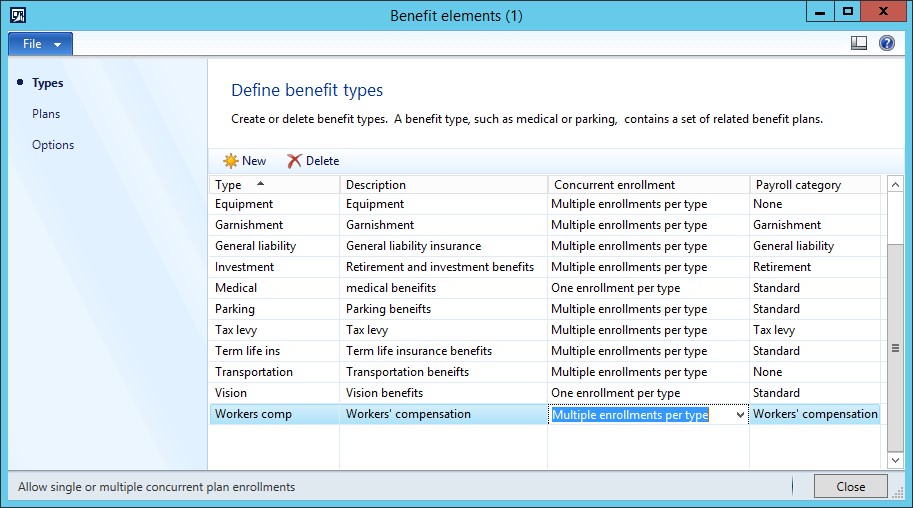 4.Concurrent enrollment defines whether user would be able to enroll into multiple plans created based on that type or will only be able to enroll a single plan based on this type.
a.Multiple enrollments per type – You can enroll a worker in multiple plans with the same benefit type, even if the enrollment is effective for the same period. For example, a worker can be enrolled in two term life insurance plans.
b.One enrollment per type – You cannot enroll a worker in more than one plan with the same benefit type for the same period. For example, if the worker already has health insurance for a specified time period, you cannot enroll the worker in another health insurance plan that covers the same period.
5.Payroll category – This control is available only if Payroll for Microsoft Dynamics AX 2012 is installed.
a.There are multiple types available in it and every option enables or disables different options while creating a plan for that particular benefit type. We'll see which options are available based on this selection in coming section.
One would repeat the above steps to create all the benefit types which organization offers. Once completed move on to creating plans.