---
8 Cool Features For Using Emails In Dynamics 365 You Don't Want To Miss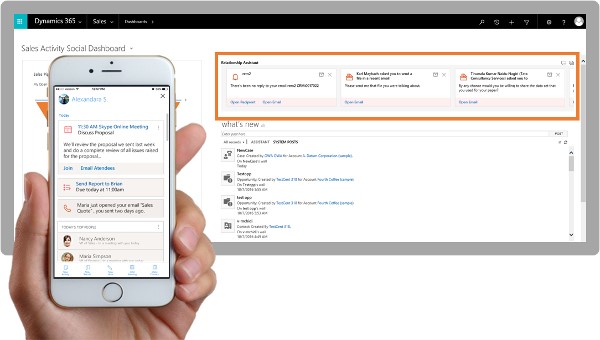 10

Apr 2017

Microsoft Dynamics 365 is packed with tons of cool features which solve day to day challenges of salespeople and help them maximizing their sales potential. Some of these selected features for using Dynamics 365 for emails are outlined below:

1. Integration with Microsoft Outlook and Exchange

Microsoft Dynamics 365 helps to collect, manage and analyze all of the diverse data and communications throughout the sales process and email is an important part of that process. That is why Dynamics 365 integrates with Microsoft Outlook and Exchange.

2. Auto Capture Related Emails and Share with Teammates

The new auto capture feature for Dynamics 365 makes it easier than ever to find relevant messages from your Exchange inbox and convert them into tracked messages in Dynamics. Auto capture scans your Exchange inbox for emails related to whatever you are working on in Dynamics 365 and presents these as candidates that you should consider adding to tracked messages.

Auto capture has the capability of discovering several untracked emails in your inbox that are related to the opportunity you are working on. The untracked emails for an opportunity are suggested when emails come from an email address of someone associated with that opportunity or because they mentioned that opportunity specifically.

When Auto capture suggests related emails, you are the only one seeing it as these emails are stored in your personal email mailbox. But if you would like to share a specific email with your teammates, all you have to do is to track them with just one click on 'Track' option. This enables your team to access with customers more easily while working on the deal.

Auto Capture is a simple to use feature but it does require some support from your administrator to setup and configure in order for you to get started with it. If you don't see this feature in your Dynamics 365 account then request your account administrator to enable it.

3. Relationship Assistant offers Greater Email Engagement

Email is the most important tool for contacting leads, communicating with customers and closing deals. But the problem is once you send an email, your message is gone and there is nothing left to do but wait for the reply. Wouldn't it be better to know if your message is received, what part of the message the reader has found most interesting or when was the best time to send the message.

Email engagement in Microsoft Dynamics 365 helps answer these questions so that you can be more effective with email. When you sign in to Dynamics 365, the relationship assistance is there to bring important issues to your attention right away. Relationship assistance provides the reminder cards on the screen with options to open the respective email, dismissing the card or snoozing it for later. Below are some additional features you get with Relationship Assistant.

4. Follow Email and Email Attachments

You simply need to follow an email to see all activities around it that the recipients do for an email. You can follow/unfollow an email with a single click on the toggle link. Not only you can follow/unfollow the emails, you can even follow the email attachments. For example, if you want to attach a PDF file containing the discount coupon. You describe about it in your email message. It will help you know when your recipient opens the attachment to access the coupon code.

5. Track Recent Activities of your Emails

Recent activity provides alerts that an important email you sent out was opened by the recipient mentioning the date and time it was opened. If you get such an alert at 9:30am in the morning, you can imagine that the recipient would be at work and you can make intelligent follow-up decisions such as sending another email that is relevant and generates further interest or pick up the phone and call this person.

The recent activity also tracks the links clicked in your sent email. For example, you can include a link in your email to signup for your offer and you will get an alert when a specific recipient opens your email and clicks on that link.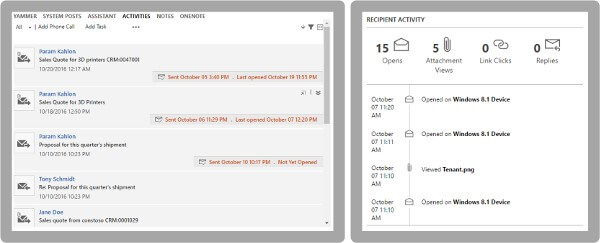 6. Email History
The intuitive interface provides the history of all related emails so that all related information is at your fingertip.
7. Schedule Delivery Time
The outgoing emails can be scheduled to be sent at a specific time which you can adjust based on the feedback you get from monitoring the activities and determining the most effective and convenient time for your recipients to view your emails and check your offerings. When you schedule a delivery time for your email, Dynamics 365 provides suitable recommendations for delivery time based on the customer's time zone.
8. Email Templates
You can send thank you emails by using the built-in email templates. Dynamics 365 even intelligently suggests the email templates to use that have worked well in the past.
Email engagement is part of the new Relationship Insights suite for Dynamics 365. It empowers you to plan your strategy, choose your next steps by making intelligent decisions backed by the facts, and continuously improve your sales process based on the tracked results.