Business Intelligence (BI) is in no way a new concept. Organisations have strived to achieve better and better synergy between the customer's demands and the company's ability to supply. Business Intelligence is the best way we know how to realise this goal. BI provides insight into the past, present and future of a business's performance using an array of technologies, methodologies and best practices. However, finding the best Business Intelligence Developer can be challenging, given the influx of unskilled new entrants every year. Therefore, Folio3, as an established and successful Microsoft Dynamics partner excels at providing superior analytics and reporting features in their Business Intelligence suite for Microsoft Dynamics.
As you continue reading, you will find out how BI trends in the public eye, how much a developer can expect to get paid, the various qualifications and skills required, some resume samples and how Folio3 can help you achieve your BI goals. Folio3 is an expert BI solution developer with experience in a wide range of technologies and markets.

Business Intelligence Developer Trend in 2020
Trends by their very nature change over time. However, interest in BI and related fields remains high. As evidenced by the graph below, the highest number of google searches for "Business Intelligence Developer" were in July 2019 but remained, on average, above 50% in the time since. With every innovation or advancement in BI technology, interest in the field spikes and then slumps for a short period.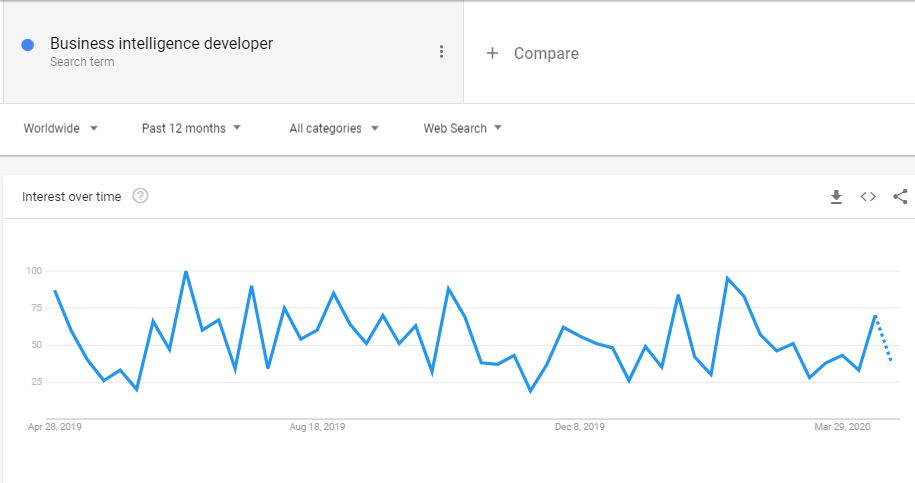 Source: Google trends
Furthermore, interest in BI is not a "localised" event on a global scale. The graph below shows that the highest number of internet searches for the term in question came from Canada, the United Kingdom, the United States, India and Brazil. This popularity shows that the demand for services in the BI sector originates predominately from western countries that focus heavily on the services industry. Furthermore, these countries tend to have a more stable infrastructure that supports the unlimited use of BI tools. Therefore, a developer should focus on marketing his skills to Canada, the UK or the USA.

Furthermore, these countries tend to have a more stable infrastructure that supports the unlimited use of BI tools. Therefore, a developer should focus on marketing his skills to Canada, the UK or the USA.
Business Intelligence Developer Job Description
Builders of Business Intelligence solutions must be experts in working with data, and the various technologies that go with it since working with multiple databases and software are what this job is all about. This job involves developing and refining IT solutions which can include coding, testing, debugging, designing, implementation assistance and everything in between. Furthermore, a BI developer spends most of his working hours either planning and researching solutions to existing problems within the company or pre-empting possible areas of concern. Developers often have to establish and maintain an Online Analytical Processing (OLAP) and often have to manage others in the IT department. Hence, the position Is one of responsibility and dedication.
Moreover, most jobs like these require qualifications in computer science, programming and data handling with significant experience working in the same fields. Most people work their way up to such a position since getting all this can take up to seven years. These requirements are essential for both the company and the individual because, as mentioned earlier, the developer must actively optimise the company's IT infrastructure, identify problems and recommend solutions. To aid this process, the developer must also understand presentation techniques, creating tables and writing reports based on their findings in simple, no-technical language.
In other words, a Business Intelligence Developer job description includes:
Data mining, cleaning and processing;

Evaluating data, performing validations;

Assessing and reinforcing analytical systems;

Identifying patterns and trends in data;

Measuring and analysing company performance against approved metrics;

Building and using models to predict future phenomenon occurrences based on historical trends;

Testing, implementing and maintaining Business Intelligence systems;

Using data and a wide array of tools to configure and visualise data;

Devising measures to disseminate reports and other necessary information to the relevant stakeholders.
Business Intelligence Developer Salary
A developer for BI can expect to earn better than the average American. According to PayScale, a developer can expect to receive on average, as of 20th April 2020, USD 79,573 annually (with a low of USD 56,000 and a high of USD 109,000). However, according to a website called glassdoor, business developer developers can expect to earn on average, as of 12th April 2020, USD 81,514 annually (low USD 62,000 and high USD 108,000).
Furthermore, just like any other industry, salaries in the field of Business Intelligence depend on a range of factors. Similarly, the pay package you manage to secure also depends on ingenuity, creativity, level of effort and how well you can sell your skills during the interview. Nevertheless, outlined below are some of the salient factors which coincide with the Business Intelligence Developer job description described in the previous section:
Geographic Region
The pay scale changes country to country depending on the demand for professionals and the supply of fresh graduates. For example, countries like India, China and Mexico have a more significant number of new graduates entering the IT field every year than the USA, UK or Canada. Therefore, salaries will always be lower in comparison.
Experience
The duration of your work experience, as you might expect, plays a significant role in the level of pay. However, the IT industry does tend to favour younger employees who are quick to pick up on new technologies and the intricacies involved.
Level of responsibility
The more the number of elements of a business a developer oversees, the more the significance of the job. Therefore, you can expect higher the more significant the scale of infrastructure included in your responsibilities.
Management responsibilities
Along with technical responsibilities, the more people you have to manage, the more the level of effort required. As such, you can expect higher pay the more people answer to you even amongst similar job titles.
Size of organisation
Logically, the bigger the organisation, the bigger the scale of operations. Therefore, larger companies can usually afford to pay employees higher salaries or offer better fringe benefits.
Business Intelligence Development Skills Required
Business Intelligence development is a continually evolving field and, therefore, it requires the presence of mind to adapt quickly. Furthermore, Business Intelligence development requires a thirst for knowledge and constant improvement. Without these personality traits, the developer will not survive long in this industry. Some of the most critical skills required include:
Business skills

Domain knowledge;

Business knowledge;

BI Reporting and analysis tool experience;

Analytical and critical thinking skills;

BI Requirements elicitation and management;

Data Modelling (usually Dimensional Modelling) experience;

Stakeholder management;

Project management.

Technical skills

SQL and relational database, Data Warehouse

SSRS/SSAS/SSIS, ETL (Extract, Transform, Load), Report Builder

Power BI, DAX, and security rules.

Some coding skills like VB, C#, JavaScript etc.
Business Intelligence Developer Resume Samples
Developers applying for jobs in BI often have to collaborate with customers, businesses, analysts and other developers from around the world. In the same way,  applying for a job, a developer is likely competing against a global pool of talent. Therefore, a well-written resume sample should showcase the following skills:
Maintaining Business Intelligence models;

Monitoring business performance;

Generating reports;

Finding data warehousing solutions;

Handling quality assurance;

Guiding junior staff and organising training activities.
Furthermore, successful resumes for this position emphasise the following qualifications: computer proficiency, business acumen, team-building skills, analytical thinking, leadership, and networking. Most Business Intelligence Developers hold at least a Bachelor's Degree in information technology or business.
Since no explanation is complete without examples, here we discuss some simple mock resumes that developers can use to "develop" their resumes and present a wholesome yet professional side of themselves to a potential employer, clients and customers.
This sample from VelvetJobs showcases some elements above. In this case, the second work experience from Philadelphia elaborates on the applicant's skill in dealing with multiple projects and experience working with various tools.
Another website you can try and look for good examples of resumes for developers is JobHero. This site offers a range of cases like the one below. Each one showcases a different kind of work experience and skill in the field. What's more, JobHero can help you improve your resume with the specialised services they offer.
Lastly, you can try QwikResume, which operates much the same as JobHero. If you have trouble finding what you require on the latter, you can try your luck on the former. However, QwikResume does offer an added feature for downloading a PDF copy of the sample resume. You can then use a built-in converting tool that comes with most PDF editors to convert the file to Word and make changes if you so desire.
Folio3 Is Your Best Partner for Business Intelligence Development
So far, we know that a BI developer, designs, creates and implements BI solutions. The developer often also has to perform both routine and breakdown maintenance of those solutions. Furthermore, a developer enables the business in creating insightful reports and dashboards using data visualisations to present information.
Therefore, finding and engaging with a competent, professional developer for BI can be difficult and time-consuming. Fortunately, this time, you don't have to look far. Folio3's Business Intelligence suite for Dynamics AX 2009 and AX 2012 (R1, R2 & R3) helps you integrate systems seamlessly. Furthermore, tools like Power BI and Zap BI analytics tool to help you analyse, understand, report and share insights with relevant team members. In the same way, to facilitate the "at-a-glance" style of information delivery, the BI dashboards provide a complete overview of each Key Performance Indicators (KPIs). Moreover, Folio3's solutions update in real-time while offering compatibility with a host of devices so you and your team can access critical data, on the go.
Lastly, Folio3 designs its Dynamics AX Business Intelligence solutions based on a data-warehouse approach; this allows the company to integrate the unlimited amount of data, sources, companies and comes with several predefined dimensions to help in reporting and sense of your business data.
Conclusion
So far, you should have a decent idea of how much a Business Intelligence Developer can expect to make annually, what it takes to become one. However, hiring a developer for your Business Intelligence requirements implies that you need more analytical and reporting capabilities due to increasing complexity. Folio3 is a specialist in developing BI solutions that focuses on efficiency and robust analytical skills and, therefore, should be your first choice.
FAQs
What is SQL BI developer?
An SQL BI developer uses data available through the SQL server to aid decision making. A SQL developer in BI helps make sense of all the numbers and letters by transforming them in presentable and actionable information. Furthermore, the developer has the right mix of skills, tools and planning ability to create seamless BI solutions that cover the needs of modern companies.
What is a Microsoft BI developer?
A Microsoft BI developer excels at using Power BI to find insights within seemingly disparate data. Such as developer also specialises in using the many tools offered by Microsoft Power BI. to clean, transform and connect large sets of data into a data model and subsequently create charts and graphs to help visualise data.
What cloud technologies should I learn if I am a BI developer?
Cloud computing for BI is a technique for delivering businesses intelligence and insight using cloud-based servers, storage, databases, software and networking over the Internet. As a developer in this field, you should be aware of all these technologies and savvy with changing trends in the cloud computing world.
How to create a report for a BI developer?
Report developers and report writers can use the tools included in Microsoft AX 2009, 2012 and 365 to distinguish each element of the report such as the source of data, display formats, graphics, filters and so on. The enterprise reporting solutions also allow end-users to create reports and dashboards directly from a web application interface. Furthermore, users can make data-driven decisions by collecting data from various sources, analysing it, designing necessary visualisations building a seamless report from anywhere.