---
Introducing the ComAX Connector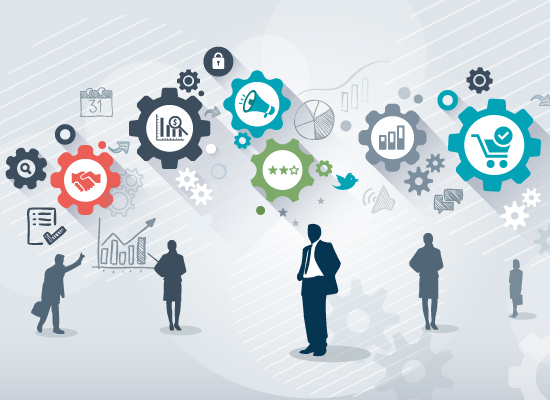 24

Feb 2016
Global Evolution of E-Commerce
The expansion of the internet on a global scale has contributed substantially to the transformation of online trade and store based transactions. Electronic commerce is largely related to the buying and selling of products by means of the internet.
E-commerce also make use of different technological maintenance standards to ensure smooth functioning of their online stores, monetary transactions, as well as all other operations integral to providing and delivering of products.
Statistics from the e-commerce industry reveal the phenomenal pace at which the industry has grown over the past couple of years. According to Statista, global e-commerce sales amounted more than $1.2 trillion in the year 2013. It has been estimated that the by the year 2017 annual revenues from online retail will reach $370 billion in the US alone. The chart below better illustrates regional breakdown of e-commerce sales as forecasted in 2017.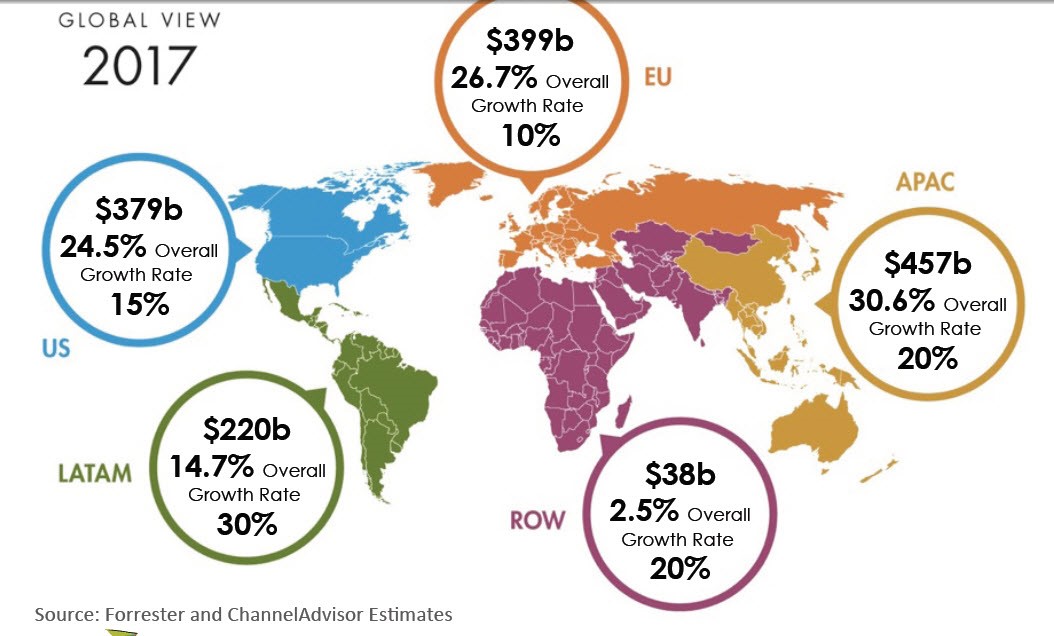 Key Problem with your E-Commerce Website
Putting it as simply as possible, websites have to be eye-catching, user friendly and functional. These are the core features that entice a customer to visit your site and purchase your product or service, leading to better Conversion Rate Optimization (CRO).
For this it is essential that the front-end and back-end operations of a website are properly synchronized. Integrating internet sales with your other regular business operations can help boost your business efficiency as well as avert problems that frequently arise when selling products online. For instance, if your inventory system for online sales and store sales are not sync together, you may face the complication of selling a product online and later discover that that the product in not available in your stock.
In case you have already guaranteed timely delivery of the product to your customer, a situation like this will lead to customer dissatisfaction – the only thing you cannot afford in the e-commerce industry. Some fundamental back-end problems that e-commerce businesses normally encounter are:
Inventory and Resource Management: Due to lack of seamless integration of e-commerce tool with back-end system operations related to inventory and resource management is greatly compromised. They are unable to track their products leading to failure in managing demand and supply of a certain product.
Customer and Order Management: Flaws in back-end system also impacts customer relationship adversely. This includes delays in replying to their inquiries and concerns as well as movement of revenue generating information in the system.
Lack of Monitoring: Without proper integration system that helps in connecting front and back end operations, performance of your trading site, transaction activity and their fulfillment as well as staffing costs may not be streamlined or optimized effectively.
Delivery and Payment Tracking: Lack of synchronization may also result in serious complications in reporting of product delivery and the corresponding payment made in response to it.
How Can ComAX Connector Help You
An ideal solution for all such problems is a life-changing software or program that can help in connecting the two applications as well as convenient in terms of usage. One of such integration systems that has been designed on the basis of these features is the ComAX connector for all best e-commerce platforms.
A key attribute of the ComAX connector lies in the simplicity it offers in terms of usability. The steps through which this is done has been outlined below:
ComAX connector imports your customizations into AX environment and configures your e-commerce platform to allow access to web services.
The connector and web based dashboard is then deployed in your network domain
The final step involves the configuration of ComAX connector with the details of your e-commerce platform so that it can run without any hassle or complications.
Do keep in mind that these conditions are applied irrespective of the nature of e-commerce platform being used. Whether you use it on Magento, Shopify, Woocommerce, Bigcommerce, Ebay or Amazon the process of configuration remains the same.
In addition to this, the component of ComAX engine in the connector can be used to run as a standalone application or as a Windows service present on the server in the same domain as Dynamics AX. Moreover, with the help of ComAX Assembler a visual interface can be configured that can easily monitor all connector activities.
Wrapping Up
Streamlining operations is a key component that can help in enhancing productivity as well as boost revenues for an e-commerce business venture. The presence of ComAX connector ensures that all major front and back end operations are in perfect synchronization.
This will play a pivotal role in increasing credibility as well as expand consumer base leading to greater revenues and profits.