---
DynAX – Dynamics AX 2012 CRM App for Windows 8, iPhone & Android Launched!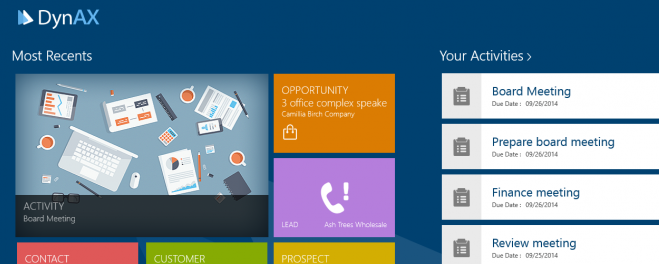 14

Oct 2014

DynAX Dynamics AX 2012 CRM App is available as free download for Windows 8 Tablets & devices, the iPhone and Android smartphones.

How many times has your staff asked for remote access to Dynamics AX data while they're away from the office? In everyday work, that's a pretty common use case to come across. Gartner predictions for 2014 identified BYOD (Bring Your Own Device) as the hottest trend in the world today.

With the release of Dynamics AX 2012 R3, Microsoft revealed its plans for enhancing the capabilities within Dynamics AX to support apps for devices. The company's new Devices and Services framework allows easy and secure connectivity between custom-built apps from outside the organization's firewall with Microsoft Dynamics AX.

A big shift has already started – that towards enterprise mobility. All major Enterprise Software Vendors are now starting to or have already invested in making their enterprise applications available on smartphone and tablets for their staff.

Having mobile access to enterprise data is no longer a novelty, it is a must have requirement. Imagine a Sales rep out in the field, needing access to data from their Dynamics AX ERP's Sales and Marketing module. With DynAX, Folio3's flagship mobile Dynamics AX 2012 CRM app, he can access his Dynamics AX data anytime, anywhere, regardless of whether he's using an iPhone, Android phone or Windows 8 tablet.

DynAX enables you to manage your appointments, accounts, leads and contacts with just a few taps on your mobile device. DynAX offers:
Real time access to Dynamics AX Contacts, Leads, Prospects, Opportunities and Customers
Real time access to your AX Activities, Appointments, Events and Tasks
Access to General Details, Addresses and Contact Info for all entities
Integration with the device's calendar (available in full version)
Offline data creation/editing capabilities
Integration with device contacts
Integration with Maps and Driving directions
Real time search
Data security
About Folio3 Dynamics Services
FDS (Folio3 Dynamics Services) is a dedicated division of Folio3 that specializes in Microsoft Dynamics AX, Dynamics CRM, Dynamics NAV and Dynamics GP based development, customization and integration services. Our main focus is on Enterprise Mobility. We firmly believe that opening up Microsoft Dynamics AX and other products to iOS Android, Windows 8 and Windows Phone users will have a huge impact on organizational agility and productivity.
If you have a Dynamics AX based development project you'd like to discuss or would like to know more about our Dynamics AX products or development services, please get in touch with us.