---
Top 4 E-commerce Platforms for AX Customers in 2016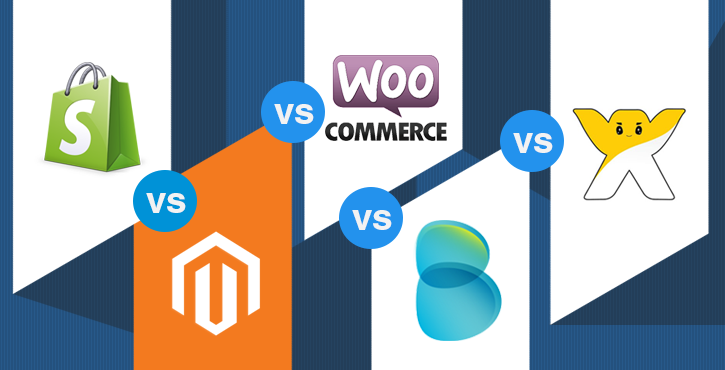 12

Feb 2016

In a market as saturated as the e-commerce platform market, it is very difficult to figure out which shopping cart software best meets your needs – this gets even trickier for users of Microsoft Dynamics AX.

Year-by-year, the advancement of e-commerce technology and the rising competition among online stores have raised end user expectations. Today, it's not only about cost, easy setup, level of customization, and the inclusion of standard features. Factors such as mobile friendliness, social media integration, good user experience, search engine optimization, modules for content marketing and customer support have also become a fundamental need of modern day online stores.

These factors are very important, however for Dynamics AX users another key touch point is the ease by which they can integrate their e-commerce platforms in their AX environment. Here, I have shortlisted the 4 leading e-commerce platforms that will sync easily into your Microsoft Dynamics AX environment. I have provided a rundown of each platforms' strengths to help you decide on the best based on your individual business goals, budget, and technical knowhow.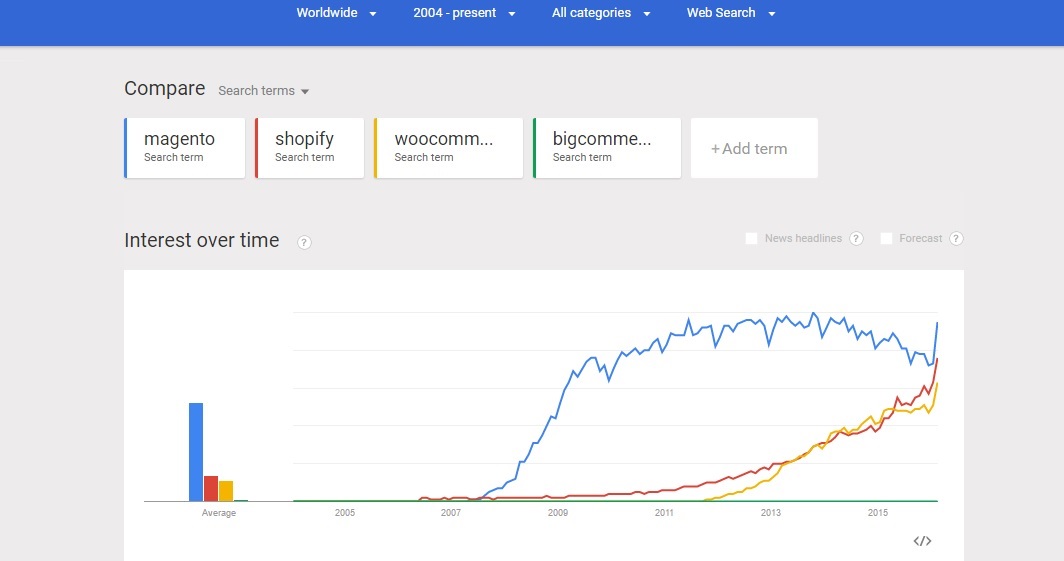 Magento
Magento is the first entrant to this list. Recently spun out by eBay, Magento is now an independent company and continues to be a top-tier (enterprise-level) player that has led the e-commerce market since the start. Being an established e-commerce player, Magento is an ideal fit for large-scale retailers and building high-end e-commerce websites. Magento offers a very high level of security, is fully customizable and scalable.
Perhaps, most importantly it offers many features that other ecommerce platforms miss, such as multiple storefront, multi-language, and multi-currency support. The platform does really well on other important parameters such as: user-friendliness, search engine optimization and mobile-friendliness as well.
Hence, it's not a surprise that AX customers of all sizes have adopted Magento as their e-commerce platform of choice. Here are some integrations that work really well between Magento and Dynamics AX CRM through integration connectors:
Order Management & Fulfillment
Inventory Management
Additionally, Magento's Enterprise plan comes with features such as customer segmentation for targeted offerings, return & cancellation management, customer support software etc. All of these integrate really well within the AX environment.
The business advantages of Magento and Dynamics AX integration cannot be underplayed as it can greatly reduce exposure to risk from slow-paying customers by establishing credit limits. For companies, that are looking to establish a serious enterprise grade e-commerce platform, Magento is the way to go!
Shopify
Being a hosted solution – Shopify has it all in terms of an easy setup, with a handy dashboard area for quickly adding products, customizing the look of your site and more. The best bit is that Shopify has evolved over the years to cater to the ever changing needs of most businesses. Other than easy setup, page load speed and trusted payment gateways are standout features for choosing Shopify as your preferred e-commerce platform in 2016.
Arguably, Shopify has the best collection of professional themes to choose from. It's SEO friendly and does all the right things to ensure that your website is Google friendly. Additionally, Shopify offers great integration opportunities for Microsoft Dynamics AX customers:
Easily sync all marketing, finance & EPOS data
Synchronize Shopify and Microsoft Dynamics AX Product Data e.g. stock availability, supplier catalog management, product descriptions and images or prices etc.
Integration ensures that your business data and sales figures match your warehouse and finance systems
By integrating Shopify with your MS Dynamics ERP you will eradicate repetitive employee data entry, remove the risk of costly errors and significantly decrease order fulfilment times.
Integration of both these platforms allows businesses to save valuable time as the entire process is automated; integration connectors automate the flow of orders and allow real-time synchronization of customer data between the two platforms. Shopify boasts great customer support and knowledge base for your queries – it is a platform that has evolved over the years and will continue to be a major player in the e-commerce realm in the coming years.
WooCommerce
Offered as a free WordPress plugin, WooCommerce allows you to leverage the advantages of WordPress while building your e-commerce websites. Though it's offered as a free plugin, the costs of integrating WooCommerce as a functional shopping cart can be considerable. If your website already runs on WordPress, choosing WooCommerce as your preferred platform is a very viable option.
As a platform WooCommerce offers a lot; it is fully customizable, has a decent shopping cart and secure payment gateway. Additionally, there is a range of themes to choose from and an option to build your own custom theme as well. The beauty of any WordPress theme is the ease by which the admin panel can be understood and managed.
Further, a big advantage of the WooCommerce platform is that there are no limits on the number of product categories that can be added, a built-in WordPress blog and easy access to WordPress library of plugins and extensions. Some key advantages of integrating WooCommerce with Microsoft Dynamics AX are highlighted below:
Sync orders, customers & billing Data
Automatically sync fulfillments & Shipping info
Unified stock levels, products and product categories
Generally, WooCommerce is a reliable platform; however, it's well suited to smaller online stores as WooCommerce websites don't perform well when their database grows in size.
Bigcommerce
Similar to Shopify, Bigcommerce has an easy to use dashboard and clearest directions for getting your site published in the least amount of time. Bigcommerce offers a host of build in features such as; a fully functional website, unlimited bandwidth and storage and an option to add as many products as you like. Further, this e-commerce platform offers essential features such as gift cards, reviews & ratings and integration with marketing tools such as MailChimp, Facebook, Ebay, PayPal and Google.
A common problem faced by many e-commerce businesses is moving data between their web store and their accounting page, through Bigcommerce you can eliminate manual data entry and automatically integrate your accounting package with your Bigcommerce web store.
Additionally, Bigcommerce is extremely SEO friendly, comes with top notch security parameters and has a great customer support. The platform has great tutorial resources and community forums, they're easy to follow and provide screenshots to help you set up easily. Integration between Dynamics AX and Bigcommerce gives you the following control:
Automatic insertion of Bigcommerce orders into Microsoft Dynamics AX
Automatic updation of Bigcommerce with offline sales
Automatic transfer of inventory levels and/or product images and descriptions from Microsoft Dynamics AX to Bigcommerce
Synchronization of customer information between Bigcommerce and Dynamics AX
Automatic rules based placement of an order with a preferred courier service(s) or internal distribution team
Bigcommerce boasts its own App store to help you get more advanced tools to "extend" the functionality of your e-commerce shop. Bigcommerce can be a costly platform but it does offer more features compared to its competitors. So, it could be a good bet if you're looking to spend a little more money for extra features and more customization.
Conclusion
It is clear that each e-commerce platform has unique offerings, and each of them attracts to different kind of business needs and goals. As an e-commerce store owner and a Microsoft Dynamics AX user you need to clearly know your specific needs and choose one of the above platforms for your online store.
The key question is outlining your vision for the kind of online story you need today and envision how these needs will evolve over the years as your business grows.