---
Why Users Will Love Dynamics AX 7?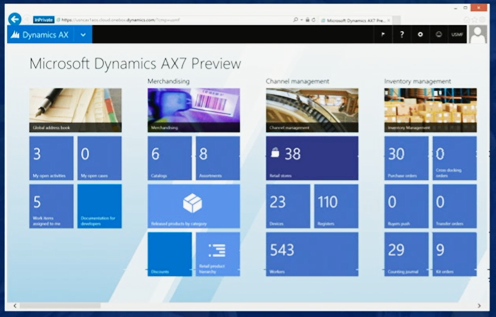 09

Sep 2015

Hey guys,

In this post we're going to a quick look at at the upcoming Dynamics AX 7 and what that offers for users from a UI and user experience standpoint. As you know Dynamics AX 7 comes with a completely revamped UI that aims to provide the best possible user experience to AX users. These user interface improvements put it far ahead of the competition since no ERP to date has come close to offering the kind of user experience that Dynamics AX 7 offers. Below are some of the key UI and UX improvements that Dynamics AX 7 offers.
Thick client Browser based application
Like all modern web applications, the Dynamics AX 7 user interface is a thick client browser based application makes use of web services calls and client side UI components to provide a smooth and near native user experience.
Metro Style Interface
It's been a while since since we first saw the Windows Metro style UI for Windows Phone. Microsoft has adopted the same Metro style for the interface in Dynamics AX 7 as well, giving users the ability to customize their home screen as they like.
Business Intelligence like Never Before
Dynamics AX 7 also offers powerful Business Intelligence (BI) features that really simplify analysis and reporting, making it a less laborious process. Applying filters and drill downs to reports are now just a few taps away.
Real-time Analytics
Dynamics AX 7 also offers numerous web based graphical reports that allow you to create interactive charts for data analysis with the ability to mouse over on individual data points to see their details.
Device Independent
Another great feature of Dynamics AX 7 is that it's device independant, so you're no longer bound to your desktop or laptop to use it. Dynamics AX 7 offers a fully responsive UI, which ensures that the user experience is consistent and seamless across devices.
Horizontal Scroll
Lastly, Dynamics AX 7 also offers horizontal scrolling capabilities (finally!), which is something most Windows users have been using for a while now. 
ABOUT Folio3 Dynamics Services
As Dynamics AX experts we specialize in Dynamics AX upgrades and migration. We can help you upgrade your existing Dynamics AX 2009 or 2012 installation to Dynamics AX 7. If you have a Dynamics AX 7 upgrade requirement you would like to discuss or would like to know more about our Dynamics AX upgrade and migration services, please contact us for a free assessment.