---
8 Key Benefits of Upgrading from Dynamics AX to Dynamics 365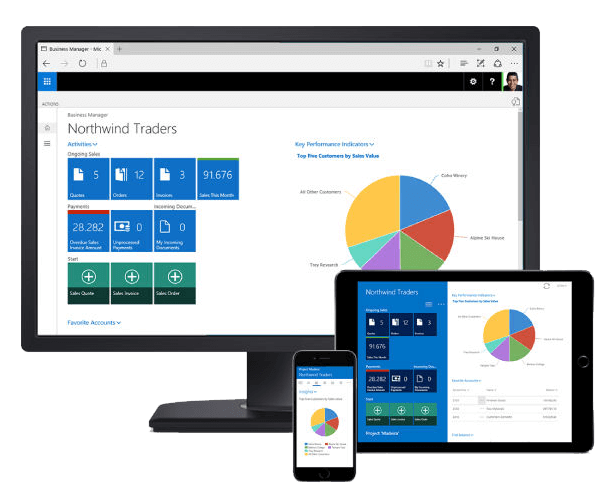 29

Jun 2018

There has been a lot of buzz in the market about Microsoft Dynamics 365, the incredible solutions it offers and their benefits. In this blog, you will learn that why it is essential to upgrade from Dynamics AX to Dynamics 365 by putting together a list of key benefits that it offers. But before that, let's have a quick read on what Microsoft Dynamics 365 is all about.

Microsoft Dynamics 365 is the only cloud-based solution, which offers all that you require for CRM and ERP in one place. It essentially brings together all the abilities into applications that work consistently together over:
Financials
Operations
Marketing
Customer service
Field service
Project service automation
Sales
Operations
All these applications are well-integrated with the existing tools that you utilize, for example Excel, Outlook, etc., as well as enable you to make improved decisions by bringing in the power of digital intelligence. To make it even better for you in the long run, these outstanding functionalities of Dynamics 365 keep on upgrading and growing to the latest technology.
Let's now move to the Dynamics upgrade from AX to Dynamics 365 benefits for your company, have a look below:
Cost Effective
Upgrading to Dynamics 365 disposes of the need for on premise servers and systems, hence reducing the human resource costs for the maintenance of your ERP system, as this recent upgrade enables Microsoft to perform it for you. As a part of the package, Microsoft helps in cleaning up the redundant resources, in order to put maximum focus on other value adding projects and can even extends to disaster management and timely back-ups. All of it results in significant reduction in the cost of running your business operations and infrastructure as they are well automated by Microsoft itself.
Full Functionality
Dynamics 365 literally is your one stop solution, you have everything in one place. Migrating from Dynamics AX to Dynamics 365 for Finance and Operations helps you in saving time and money on training your employees as makes it simpler to integrate your CRM, ERP, BI and IoT all in the Dynamics 365 range, as well as eradicates the need for any customizations and dependence on third-party software. Enhanced features are also expected to be added in the future by Microsoft on to the new platform.
Greater Accessibility
AX migration to Dynamics 365 comes with greater accessibility. There is no need to count on remote desktop or enterprise portal anymore, since Dynamics 365 is now powered by a native HTML5 browser based interface that is accessible on all the devices with any browser or platform. Hence, making it easier for you to seamlessly perform your business operation from anywhere at any time.
Improved Flexibility
With Dynamics 365, you have the better flexibility to manage your business operations. It allows you to measure your usage, whenever required.  The most incredible feature of Dynamics 365 is that you don't essentially have to plan for any additional server space, there are multiple versions of software available that you can choose from including, Cloud (public cloud), Cloud + Edge (hybrid) or Local Business data (on premise). Therefore, with the upgraded version you now have more options to choose from, thereby making it easier for you perform your required tasks.
Easier to Upgrade
Dynamics 365 is simpler to keep up-to-date in comparison to the older versions. In order to keep your business on the latest technology, aiming to improve the operations and serve your customers the best, Dynamics 365 have periodic updates that involves platform updates in every 3 months, whereas application updates in every 6 months. This also helps in eradicating the need for bigger implementations in the long run. Few noticeable upgrades that Dynamics 365 offers are:
Newer and easier way to get the customizations done
Automation in the rollout of platform updates
Sandbox environment to enable testing of application upgrades
Built-in Analytics to Drive Greater Efficiencies
With Dynamics 365, you get a standard built in analytics tool that is powered by Microsoft Power BI, an efficient suite of business analytics tools that helps in data analysis and insights. This helps you in connecting all your applications securely, as well as let you have all your data under one roof with user-friendly and convenient dashboards and reports leading to deeper insights for improved and effective business operations.
Robust Security
Microsoft Dynamics 365 gives you the advantage of higher security features and access controls for your applications. Due to its cloud service infrastructure and robust built-in security features that uses effective security measures and mechanisms to protect data. Additionally, Dynamics 365 offer efficient data access and collaboration with data integrity and privacy that are built into the cloud services, including the physical datacenter, network connectivity, service hosting platform, and user and administrator access.
Increasing Agility
Dynamics 365 literally revolutionizes the way you to manage your customer data and day-to-day tasks. You can now quite simply dissolve barriers in between crucial business platforms to make your data start working together. There is also a Microsoft Common Data Model that is a shared business database, supporting this concept. It enables you to connect all your data and processes together in order to avoid the silos of information.
In a nutshell, Microsoft Dynamics 365 proves to be a great platform to streamline your business operations and drive your company to greater efficiencies. So, what are you waiting for? Get your latest Dynamics 365 today!
That's it! I hope this blog helps you in understanding the significance of Microsoft Dynamics 365 better.
Please feel free to comment or reach out if you have any questions. In case you need any help with installation, integration, upgradation and customization of your Dynamics ERP system, please get in touch with us.