---
10 Key Benefits of EDI Integration with Dynamics AX and Dynamics 365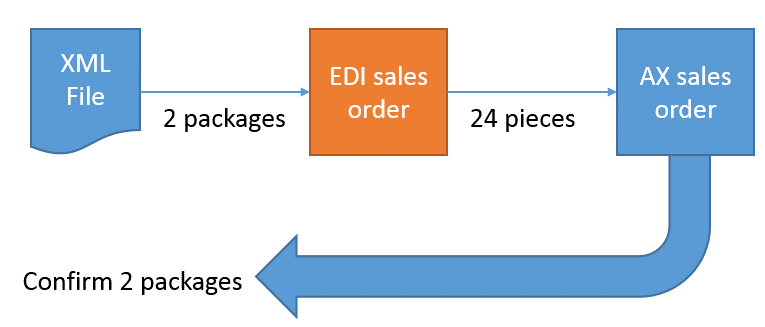 18

May 2018

EDI for Microsoft Dynamics generates great value for companies using the Dynamics AX platform for running retail, distribution and manufacturing operations.Dynamics AX EDIintegration helps extend the capabilities of your Dynamics AX platform by connecting it to external associations like clients, merchants, third party logistics, custom and government agencies and more. EDI for Microsoft Dynamics AX platform from a Microsoft certified partner assures that the solution will meet quality standards and the services satisfactory.

Our AX EDI integration,written in X++ extends the native Dynamics AX environment for EDI workflows without having to alter prevalent  business rules. The Dynamics AX EDI solution supports the most complex EDI workflows effectively. Readily adapts to the business processes and any business or trading partner requirements.

Pre-built AX EDI integration streamlined coding enables rapid implementation. By directly embedding EDI into Dynamics AX, the solution delivers adaptability and accuracy.

Since the solution offered by Folio3 is an extension of the Dynamics AX environment, the EDI solution is easy to learn, implement and use, resulting in greater savings in terms of cost and time.

Our EDI Integration for Microsoft Dynamics AX benefits include:
On-premise, Private Cloud and Public Cloud models offered for enhanced flexibility and requires next to zero Dynamics AX customization for a totally incorporated EDI arrangement

Supports 60+ Vantage Point EDI incorporated archives

Continuous support offered for cloud-based services, DIXF and Application Integration Framework (AIF)

Processing to be completely automated – offering fully integrated, streamlined and accurate ASN processing

Supports Dynamics 365 (AX 7), AX 4.0, Axapta 3.0, AX 2012 R3, AX 2009 and Axapta 2.5

Integration methods extented: Odata Endpoints, AIF and  DIXF AX

Extensive help for Dynamics AX Advanced Warehouse and Transportation Management System functionality

EDI data is easily accessible in Dynamics AX – reducing overall customer response time

Prompt updates guaranteed for any new releases of Dynamics AX

Propelled capacities identifying with numerous entities (territory id) and Virtual Companies.
Additionally, we manage trading partner connectivity and updates, which saves the business time, reduces errors and any supply chain disruptions.
Folio3 Dynamics AX EDI provides built-in support for documents exchanged with your customers, vendors, 3PLs and carriers. Automated safeguards ensure the documents being exchanged are complete and accurate, where intuitive alerts notify for any discrepancies.  
Furthermore, our easily accessible 24/7 hour customer support team is responsive and supportive throughout. To find out more about our products and services, please get in touch with our team HERE!