---
Top 5 Dynamics CRM Training Resources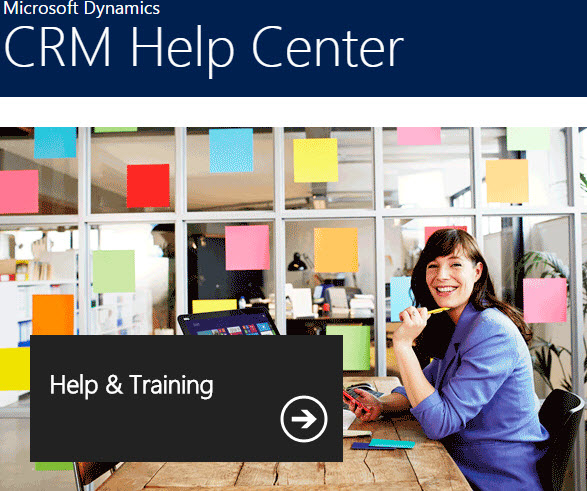 13

Nov 2015

Technology has drastically changed the way people interact with businesses and companies are looking for better, more efficient ways to respond to and connect with their customers. Which is why CRM systems are so common these days in practically any business you look at, whether its small, mid-sized or a large enterprise. Microsoft also offers an excellent solution for this in it's Dynamics CRM, that helps you manage the sales, marketing and customer service functions. If you're new to Dynamics CRM, or need a quick refresher, the following resources will help get you up-to-speed on the various features the Dynamics CRM provides and how you can leverage them.

Help & Training for Dynamics CRM:

This kit is a great resource for users who are just starting out with Dynamics CRM, since it includes downloadable eBooks, user guides as well as how to videos  for all the features Dynamics CRM 2013 provides. The eBooks and help files are editable, so if you're a trainer, you can customize them for training your company's users.
Microsoft Dynamics Community Videos:
The Microsoft Dynamics Community site is also a great training resource for Dynamics CRM beginners and offers a wide variety of trainings and new feature videos covering everything from specific help topics like "how to troubleshoot errors when viewing reports" to broad based training on the Dynamics CRM's key features such as "Customer Service and Care with Microsoft Dynamics CRM." Registration on this portal is free but mandatory, if you want access the material the site provides.
Microsoft CRM YouTube Channel:
The Microsoft Dynamics CRM channel on YouTube is also a fantastic resource for training videos that let's you search for specific training topics or browse through the playlists for the how-to video you're looking for. It not only offers a great variety of helpful training videos on topics like "Getting Started with Microsoft Dynamics CRM" and "Quick tip: Add new information quickly through shortcuts in Microsoft Dynamics CRM," but is also a great resource for learning about the new features that have been introduced in the latest versions of Dynamics CRM like Dynamics CRM 2013.
The Microsoft Virtual Academy is also a great resource guide for helping training and how-to videos for the Dynamics CRM.
The Microsoft Learning is another great training resource, since it offers a variety of Dynamics CRM training materials including e-learning tutorials, books and certifications (among others).
If your organization is enrolled in a service plan for Microsoft Dynamics, you can also access additional online training through Microsoft's Customer Source. This site includes a number of training resources including e-learning tutorials, training materials and tailored learning plans for the Dynamics CRM.
Microsoft Dynamics CRM Developer Center:
Similar to the Customer Center, the Developer Center is a dashboard for the Dynamics CRM information that is targeted specifically towards developers. This site contains all the information you need to develop, design and distribute solutions for the Dynamics CRM including the SDK download package, introductory and in-depth training articles, overview and reference documentation, etc. The MSDN Library and White Papers sections that you'll also see on the site, link to more comprehensive technical training resources, many of them from the IT Pro Center in the TechNet library.
Microsoft Dynamics CRM 2011 Customer Center:
The Dynamics CRM 2011 Customer Center on the other hand is dedicated to Dynamics CRM 2011. If you have this version of Dynamics CRM installed in your company you should definitely check this out. It has a wide variety of popular articles and videos for beginner users, which will help you get started with Dynamics CRM 2011.
To learn more about Microsoft Dynamics CRM 2013 please visit:
https://www.microsoft.com/dynamics/crm/content/rc/2011/en-us/online/5.0/vid_gettingstarted.aspx
http://www.microsoft.com/en-us/dynamics/default.aspx
ABOUT Folio3 Dynamics Services
As Microsoft Dynamics experts we specialize in Dynamics development and implementaton. If you have a Dynamics CRM 2013 upgrade requirement you would like to discuss or would like to know more about our Dynamics development services, please contact us.